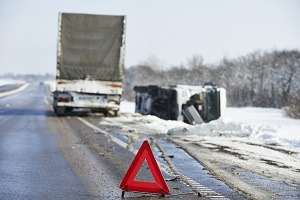 Ontario was once again gripped by severe winter weather over the weekend, and adverse road conditions are believed to have played a role in several serious traffic accidents and collisions along Highway 401.
Ontario's Highway 401 was closed for several hours on Tuesday morning following a serious vehicle accident that left two motorists fatally injured. Police announced that the significant delays along this major highway were caused after a tractor trailer struck a passenger vehicle at around 6:30am.
According to accident reports, the driver of a tractor trailer was headed eastbound on Highway 401 when he lost control of his rig and struck a passenger vehicle. Tragically, both men in the passenger vehicle were fatally injured. The tractor trailer driver was taken to a local hospital with non-life-threatening injuries.
Police also reported that they had difficulty responding to this crash due to several other vehicle collisions in the area.
Police are urging drivers to be cautious on the roads and to drive slowly and defensively. This has already been a long winter for motorists in Toronto and Ontario, and the severe weather shows no sign of slowing down any time soon. For this reason, it is all the more important to follow some basic winter weather driving habits that can help you avoid a dangerous situation on the roads.
At Cariati Law, our Auto Accident and Personal Injury lawyers are committed to securing the maximum compensation for victims of accidents that were not their fault. Our experienced legal team knows how to deal with the authorities and insurance companies to secure the maximum compensation for our clients.
Call Cariati Law at 905-629-8040 if you or a loved one are injured by a reckless, negligent or intoxicated driver. Your case and your injuries are serious. At Cariati Law, we treat them that way.
Cariati Law – Passion Behind Every Case.