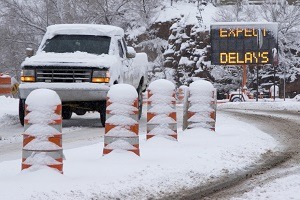 The first snow of the season has already come and gone in Toronto, and before long the winter weather will be here to stay. At Cariati Law, we want to remind everyone that hazardous driving conditions will become more common during the winter months, which means Toronto drivers must remain aware and vigilant on the roads at all times. Here are some tips to keep in mind while driving in Toronto this winter:
-Get a head start: prepare your vehicle for winter weather in the fall, before road conditions start to deteriorate. That means making sure your battery is fully charged, your headlights and brake lights are fully functional, your brakes are not worn down, and your winter tires are installed and properly inflated.
-Prepare for the worst: Stay up to date on the weather forecast and try to avoid driving during the worst weather conditions. If you're unable to stay off the roads, drive slowly and give yourself extra time to get to your destination. The risk of skidding is highest during the winter months, and keeping your speed under control makes your car easier to control and provides you with extra time to react.
-Be prepared: Pack yourself a winter emergency kit and keep it with you in your vehicle. The best items to keep with you include a good ice scraper, sand or kitty litter to help you get out of a snow bank, road flares, extra antifreeze and windshield washer fluid, a flash light, first aid kid, and a shovel.
At Cariati Law, we know that even with the proper preparation, accidents will still happen. If you or a loved one have been injured by the negligent or reckless driving of another motorist, bus driver or truck driver, you need the legal counsel of Toronto's premiere Personal Injury and Car Accident Lawyers.
Call Cariati Law at 905-629-8040 to find out more about how our experienced, compassionate Car Accident lawyers can help you with your case. Your case and your injuries are serious, and at Cariati Law we treat them that way.
Cariati Law: Passion Behind Every Case.