Injury Lawyers Make a Big Difference in Slip & Fall Cases
If you have been injured in a slip and fall accident, you may be wondering who is responsible for your damages. The Toronto slip and fall injury lawyers at Cariati Law can help you understand the law in this area and whether you have a case against the property owner or another party.
In general, if you are injured on someone else's property, they may be held liable if they were negligent in maintaining the property. For example, if there was a spill on the floor and the property owner failed to clean it up, they could be held responsible if you slipped and fell.
Similarly, suppose a property owner knows about a hazardous condition on their property but does not take steps to fix it or warn visitors about it. In that case, they could also be held liable for any injuries.
If you have been injured in a slip and fall accident, the Toronto personal injury lawyers at Cariati Law can help you understand your legal rights and options. They can also help you pursue a claim for compensation from the responsible party.
Schedule a free consultation with Cariati Law today to get started on your case. Cariati Law, leading personal injury lawyers in Toronto can be reached at 905-629-8040 for a free legal consultation.
Cariati Law has offices located conveniently throughout Ontario. You may come into our local offices, or we can schedule a virtual free consult online via Zoom. We can also come to you at your home or come to the hospital if need be. We want to make it easy to work together, and we are here for you during this challenging time.
How do you choose the right law firm to handle your slip and fall accident claim?
There are many Toronto slip and fall lawyers to choose from, but not all of them are created equal. If you've been injured in a slip and fall accident, hiring the right lawyer to ensure you get the compensation you deserve is essential.
Cariati Law, a leading personal injury law firm in Toronto, has the experience and knowledge to deal with insurance companies and get you the best possible settlement. We will also work tirelessly to bring you the justice you deserve.
When choosing a Mississauga personal injury lawyer, pick one with experience in slip and fall accidents. This type of accident is different from other personal injury cases, so you need a lawyer who knows how to handle these often complex cases. The right lawyer will fight for your rights and get you the maximum compensation possible.
At Cariati Law, we have a team of experienced accident lawyers in Toronto, Mississauga, Barrie, Sudbury, Ottawa, Kitchener, and Hamilton who are ready to help you with your case.
Contact us today for a free, no-obligation consultation. We will review your case and advise you on the best course of action to take. Don't wait; there are time limits on slip and fall accident cases in Canada. Call us today and let us help you get the justice and compensation you deserve.
New Ontario Law requires 60 days' notice to file a Slip + Fall insurance claim.
Thousands of Canadians are injured each year in accidents from slipping on icy steps, sidewalks, and parking lots. The Occupier's Liability Act, Ontario's Bill 118, recently passed.
The Occupier's Liability Act now gives you much less time to sue for damages in an Ontario slip + fall accident. If you have a terrible fall on ice and want to file an insurance claim, you used to have two years to file your claim.
Now the law has changed to require only 60 days' notice. So, suppose you or a loved one slipped and fell on the ice in Ontario and suffered an injury. In that case, you need to immediately contact an experienced slip and fall lawyer to represent you and file a timely insurance claim.
The experienced slip and fall injury lawyers at Cariati Law will investigate your situation, review all images, accident documents, medical bills, poor maintenance concerns, and more. We'll make sure that every detail of your claim is documented, and our top slip and fall accident lawyers will put an accurate and fair valuation on your case.
Then we will work with the insurance company to seek the maximum recovery that you deserve for your Toronto slip and fall accident claim.
Who is responsible for a Slip and Fall accident?
From dangerous steps to a slippery floor, poorly maintained and hazardous properties are a hazard to everyone. When someone trips, slips, or falls due to a dangerous condition on someone else's property, serious injuries can occur. Property owners are responsible for injuries that occur if negligence is involved.
If you are in a public place, you expect that place to be safe.
If you have been injured in a slip and fall accident, you need an experienced accident lawyer to fight for your rights. Cariati Law, the Toronto and Mississauga personal injury law firm, will seek the justice you deserve.
There are many types of situations where a person can become injured:
Broken sidewalk or unlevel parking lot
Swimming pool ladder and pool in need of repair
Unsafe property that leads to assault due to poor lighting and security
Loose banister in apartment house or hotel leading to a fall
Some types of typical slip, trip, and fall injuries include:
Traumatic brain injury
Spinal cord injury
Broken hip
Disability
Back or neck injury
A slip and fall accident could result in death and serious injuries.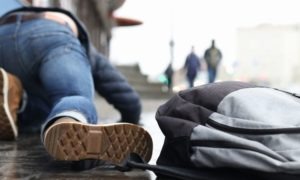 If you or a family member have been seriously injured or has died in a slip and fall accident in Ontario, Canada, the personal injury lawyers of Caraiti Law can help you fight for your right to compensation. It is important to hire a wrongful death lawyer who understands how to manage these often complex cases.
In Ontario, Canada, you must contact a slip and fall injury lawyer as soon as possible since a limitation period applies to your Ontario injury claim.
The lawyers of Cariati Law are ready to help you. Please get in touch with us today for a Free Consultation at 1-888-629-8040
Forms of compensation for which you may be eligible include:
Past and future medical bills
Lost wages and diminished earning ability
Physical therapy and occupational training
Pain, suffering, and reduced quality of life
Slip and Fall Prevention Resources
Avoid Slip and Falls in the Bathroom
How much compensation can I receive in a Slip and Fall Case?
The amount and type of compensation you may receive will depend on your circumstances. Contact a Cariati Law Premises Liability Lawyer in Ontario, Canada.
A team will be assigned to your case. When you call Cariati Law, we'll get to work immediately on your Mississagua slip and fall accident claim.
We'll secure all of the needed documents to build your case. We treat our clients like family because we understand that if you need our help, you are dealing with a challenging situation. You can depend on Cariati Law to hold your hand every step of the way and fight to protect your rights to the full and fair recovery you deserve.
Every Ontario, Canada injury & disability lawyer at our firm is innovative, highly experienced, and result-oriented when serving the diverse legal needs of our clients. Our lawyers are committed to protecting your rights.
Cariati Law, passion behind every case.
Click here for a Free Case Evaluation or call TOLL FREE: 1-905-629-8040.