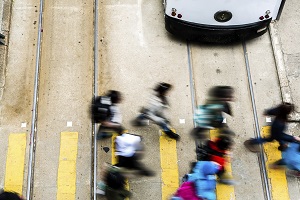 For many elementary and high school students in Ontario, Monday marked the beginning of March Break. During this week, students and parents can take time off to plan family outings and enjoy the start of spring. However, with more students and families out of class or work during the day, comes an increased risk for pedestrian accidents in Ontario.
In order to raise awareness and prevent dangerous situations from arising, Toronto Police have announced that they will be cracking down on dangerous pedestrian behavior all week. Starting Monday, March 16 and continuing through Sunday, March 22nd, Toronto Police will be targeting pedestrians that jaywalk or fail to follow posted traffic regulations.
Practicing proper pedestrian safety is important at every time of year, but the week of March Break gives Toronto Police a unique opportunity to reach both young people and parents in order to emphasize the importance of proper pedestrian safety on Ontario's roads and highways.
Unfortunately, there is good reason to believe that public education about proper pedestrian safety is lacking in Ontario. There have been multiple incidents so far in 2015 that have seen pedestrians seriously or fatally injured due to either negligent drivers, or simply not following some basic safety measures.
In fact, the statement from Toronto Police announcing the start of this campaign specifically mentioned that 71% of all fatal collisions so far this year have involved pedestrians. This is obviously a disturbing statistic and shows that greater education about pedestrian safety is sorely needed.
Here are some key safety measures that can help prevent dangerous pedestrian accidents:
Be Aware of Your Surroundings: Always be mindful of other pedestrians, motorists and cyclists with whom you are sharing the road. Being mindful of your surroundings can give you valuable time to react in the case of an accident or dangerous situation.
Make Yourself Clearly Visible: A tragic amount of accidents occur when motorists simply cannot see the pedestrians around them. This is especially true of pedestrian accidents that occur at night. In fact, one out of every three pedestrian fatalities occurs between 8 and 11:59pm. If you are out walking, jogging or cycling at night or during periods of low visibility, wear reflective, brightly colored clothing to alert motorists of your presence.
Stay Off Electronic Devices: Phones, iPods and other personal electronic devices can easily distract you from your surroundings. Whenever walking or running on busy streets, keep your devices away until you arrive safely at your destination.
Obey Posted Traffic Signs: Avoid jaywalking and other dangerous practices by following the flow of traffic and crossing the street at designated crosswalks. Stop, look, and listen for oncoming vehicles or cyclists, wait for the "Don't Walk" sign to be turned off, and look both ways down the street to ensure it is safe to cross. These basic safety practices will be the focus of this week's O.P.P Pedestrian Safety Campaign.
At Cariati Law, our Ontario, Canada Injury and Disability lawyers have substantial experience representing victims of Pedestrian Accidents who were injured through no fault of their own. These safety tips can help you be as alert and prepared as possible, but unfortunately, accidents can still happen even with the proper preparation.
If you or a loved one has been injured as a pedestrian by a reckless, intoxicated, distracted or negligent driver or cyclist, you could be entitled to compensation for your serious injuries. Call the experienced, compassionate Pedestrian Accident and Personal Injury lawyers of Cariati Law at 905-629-8040 today for a FREE, no-obligation consultation. Our Toronto, Ontario Personal Injury team will speak with you for free and help you understand the details of your case.
Each and every Ontario, Canada injury & disability lawyer at our firm is innovative, aggressive and result-oriented when serving the diverse legal needs of our clients. Our lawyers are committed to protecting your rights. When injured, make one call to Cariati Law.
Cariati Law – Passion Behind Every Case