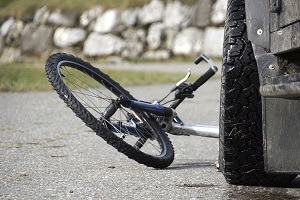 Two cyclists were seriously injured in the Greater Toronto Area over the weekend following a pair of unrelated incidents. The first cyclist, 28 years of age, is in critical condition after being struck by a car early Sunday morning. According to police, the accident occurred at the intersection of Kingston Road and Warden Avenue in the Scarborough area when the cyclist attempted to make a left turn across traffic.
The second accident occurred Friday morning on Spadina Avenue, where a cyclist attempting a left turn on to St. Andrew Street was struck by a Toronto Transit Commission streetcar heading the opposite direction. While police say that the streetcar had the right of way, the TPS are currently looking for witnesses to provide more information about the accident. Learn more about reporting information to the Toronto Police Service here.
These unfortunate and unrelated incidents underscore the dangers faced by cyclists when they are asked to share the road with larger vehicles. The fact that both cyclists were injured while attempting to make left turns against the flow of traffic also illustrates that special precautions must be taken while riding a bicycle on urban roadways. Here are some statistics and basic traffic safety information to keep in mind if you regularly ride a bicycle in Toronto, or any other large urban area:
– In Canada, around 7,500 cyclists are seriously injured every year.
– While a majority of bicycle injuries and crashes occur during the afternoon rush hour, 1 out of every 3 cyclist deaths occur at night.
– 64% of cyclist deaths from traffic accidents occur on city roads.
– Familiarize yourself with the universal cyclist hand signals. Using these turn signals alerts other riders and motorists of your intentions and helps prevent accidents.
– Stay in designated bike lanes as much as possible.
– Wear your helmet! While mandatory helmet laws in Ontario apply only to riders under 18 years of age, wearing and properly securing your helmet in the event of a collision could end up saving your life.
Biking is a wonderful way to commute to work, or simply get around our bike-friendly city. However, it is important to remember that winter is a difficult time for drivers of all types of vehicles. For this reason, following proper safety precautions on your bicycle is even more critical when road conditions deteriorate.
If you or a loved one have suffered serious injuries after being struck by a car or other motor vehicle while walking or cycling in Ontario, you need the representation of the experienced Personal Injury lawyers of Cariati Law. Our Ontario, Canada Bicycle and Personal Injury lawyers know how to handle complex injury cases and can help you secure the maximum compensation to which you are entitled.
Call us today at (905) 629-8040 for a free, confidential and no-obligation consultation. Your case and your injuries are serious. At Cariati Law, we treat them that way.
Cariati Law – Passion Behind Every Case.