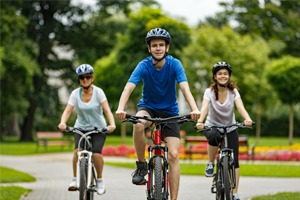 The warm, inviting weather of a Toronto spring is not far away. We're about to enter the prime time for bicyclists and other outdoor enthusiasts to take to the streets. In Ontario, approximately 1.5 million people travel by bicycle at least once a week. With this in mind, Cariati Law offers helpful resources on bicycle laws in our area—and safety tips to keep riders out of trouble.
Cycle Safely
As enjoyable as a bicycle ride can be, it is not without risk. In an earlier blog, we note at least seven Ontario cyclists find themselves in an emergency ward every day. The Ministry of Transportation Ontario (MTO) offers a number of useful guides on bicycle safety for recreational riders of all ages. They also remind us people of all ages can ride a bicycle—as bicycles do not require:
Driver's Licence
Registration
Licence Plates
Vehicle Insurance
At the same time, the MTO reminds us Ontario's Highway Traffic Act (HTA) treat bicycles just like any other vehicle on the road—including cars and trucks. Cyclists can ride on most public roads, with the exception of controlled-access highways or roads that feature pedestrian crossovers. This means cyclists have the same rights and responsibilities as all other drivers—and must obey all traffic laws. Under the law, every cyclist under age 18 must wear an approved helmet.
Share the Road Responsibly
With cycling becoming an increasingly popular mode of transportation for Ontario commuters, it is important both drivers and cyclists understand the laws—and the dangers—that come with sharing our public roadways.
According to the Canadian Automobile Association (CAA), new legislation known as the Making Ontario's Roads Safer Act will increase rider safety. In Ontario, Ellen's Law—named for a Sussex woman killed in a 2016 cycling collision—mandates drivers maintain a minimum one-metre distance while passing a cyclist. Violations carry a fine of $172.50 and three demerit points.
We're Here to Help
If you or a loved one has been seriously injured in any type of bicycle accident, call Cariati Law at 905-629-8040 for help. When you call, you will speak with an experienced Toronto Personal Injury lawyer absolutely FREE. We will investigate your accident, handle all the paperwork, and manage your entire claim—so you can focus on your recovery.
At Cariati Law our top accident lawyers will investigate every detail of your accident for free. All cases are handled on a contingency fee basis, which means you pay us nothing up front. In fact, we only get paid after you do, and if there is no recovery, there is no lawyers fee.
Contact one of our Toronto serious injury lawyers at 905-629-8040 for help today.
Cariati Law – Passion Behind Every Case