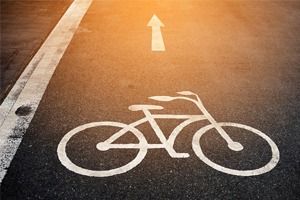 Public Health Ontario currently reports that at least seven cyclists will find themselves in a trauma or emergency ward every day—an alarming statistic that is currently increasing.
In recent years, the popularity of cycling in Ontario has risen dramatically. Approximately 1.5 Million people in the province travel by bicycle at least once a week. While the number of cyclists has risen approximately 61% over the past 20 years, a large portion of the population still fear that bicycle travel is unsafe.
With more riders hitting the streets, Ontario is investing $93 million to improve the province's cycling infrastructure—a great step toward improving road conditions and rider safety in the province.
Transportation Minister Steven Del Duca announced the new funds in December of 2017. Under the province's four-year commuter cycling program, the funds are designed to help Ontario meet greenhouse gas reduction targets. Municipalities throughout the province will receive funding to expand bike lanes and other cycling infrastructure.
Click here to read the full article.
Specifically, the City of Toronto is poised to receive $25.6 million this year. Over the course of the next decade, these funds will expand the bike share program by:
Adding 3,000 additional bicycles
Establishing 300 new bike dock locations
Providing 6,000 additional bike docks
A national cycling strategy would not only build safer roads for cyclists—it could also help promote a healthier Canadian population overall. Together, we can prevent accidental deaths on our Ontario roads. At Cariati Law, we deeply care about your safety.
If you or a loved one has been seriously injured in any type of motor vehicle accident, call Cariati Law at 905-629-8040 for help. When you call, you will speak with an experienced Toronto Bicycle Accident lawyer absolutely FREE. We will investigate your accident, handle all the paperwork, and manage your entire claim—so you can focus on your recovery.
At Cariati Law our top bicycle accident lawyers will investigate every detail of your car accident for free. All cases are handled on a contingency fee basis, which means you pay us nothing up front. In fact, we only get paid after you do, and if there is no recovery, there is no lawyers fee.
Contact one of our Toronto serious injury lawyers at 905-629-8040 for help today.
Cariati Law – Passion Behind Every Case