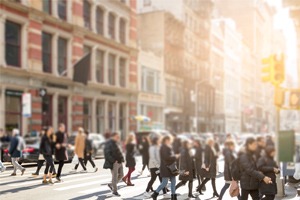 Crossing the road can be dangerous for anyone, but for seniors on the streets of Toronto it has proven downright deadly. Over the past year at least 37 pedestrians have been killed, 24 of which were over the age of 60. It's easy to see that seniors have disproportionately accounted for the number of road victims across the city. While police and local politicians were met with criticism over their efforts, such as handing out bright armbands to seniors to keep them visible, it is obvious that something needs to be done – and soon.
While there is no one clear remedy to prevent these accidents, advocates stress that what would help them (lower speed limits, road redesign, etc.) would be beneficial to everyone – not just seniors.
Implementing Additional Safety Measures
This past summer council approved an improved version of Toronto's Vision Zero road safety plan, which included reducing some speed limits and adding more red light cameras. But while this is a step in the right direction, according to Adina Lebo, ambassador for the Toronto chapter of the Canadian Association of Retired Persons (CARP), the efforts have yet to be "implemented fully."
Lebo believes that there are four things that would make a positive difference for seniors going forward:
Lower speed limits
More drivers slowing at yellow lights
Crossings were drivers, cyclists, and pedestrians aren't all competing to cross at the same time
No right turns on red
She believes that although these four things aren't going to be implemented across the city overnight, the city can begin to implement them in the locations where accidents occur.
Police Traffic Enforcement
Another issue: Police enforcement of existing rules. In November the Toronto police released statistics that showed a big drop in traffic enforcement over the last six years, which also came about during which a dedicated traffic enforcement unit closed. Fortunately, the police services board recently agreed to reinstate the enforcement unit.
According to the data, at least 238 pedestrians over the age of 60 have been killed in Toronto since 2007 – a disproportionately large share of the over-60 population. However, seniors make up less than a third of the number of those who have been seriously injured since 2007.
No matter what, drivers need to be more careful and leave the distractions off the road.
Cariati Law Can Help
If you or a loved one has been injured in an auto accident, it can have a profound effect on your physical, emotional, and financial wellbeing. You should not have to pay the price. At Cariati Law, our top personal injury lawyers will handle your case for free – you pay nothing until we do. Contact one of our Toronto Personal Injury Lawyers at 905-629-8040 today!