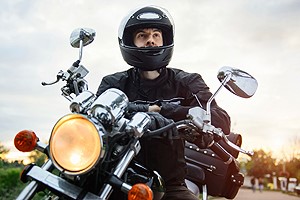 If you go for a drive around the Greater Toronto Area this summer, chances are good that you will be sharing the road with motorcyclists. There are over 200,000 registered motorcycles in Ontario, and many bikers are our friends, neighbors and colleagues.
Ontario Police are urging motorists to be aware of motorcyclists this summer, when increased motorcycle traffic creates a dangerous situation for many riders.
According to the Ontario Provincial Police, there have already been at least 23 fatalities related to motorcycle accidents in our province in 2016. Many motorcycle accidents are the result of negligent behavior by occupants of motor vehicles or larger vehicles, who often do not take the proper steps to safely share the road with bikers.
On Monday, 8/1, a motorcyclist in Wellington North Township lost his life after he was involved in a collision with a car. Police are still investigating the accident, but many fatal collisions like this one are the result of drivers not being aware of motorcycles around them. These accidents are made all the more tragic due to the fact that they are often preventable.
Police are encouraging all Ontario drivers to take an extra moment to check your rear view mirrors and blind spots for approaching motorcyclists this summer. Taking this extra second out of your trip and being considerate of bikers on the road, could mean the difference between life and death.
At Cariati Law, Toronto, Mississauga and Hamilton, Ontario Personal Injury law firm, we want to do our part to help all Ontario motorists arrive at their destinations safely.
Click here to view some quick tips that can help motorists safely share the road with bikers.
If you or a loved one suffered injuries in a motorcycle accident that was not your fault, Cariati Law may be able to help. Call us today at 905-629-8040 for a FREE, confidential consultation with one of our experienced Ontario Motorcycle Accident lawyers.
When you call Cariati Law, one of our dedicated lawyers will review every detail of your situation at no cost to you. We will fight hard to protect your rights and secure the maximum compensation for your injuries, medical bills, lost wages and damaged property.
All motorists have a responsibility to safely share the road. If you or a loved one were hurt in an accident that was not your fault, all Cariati Law today. At Cariati Law, you will never pay a lawyer's fee up front, and you owe us nothing unless we recover for you.
Cariati Law – Passion Behind Every Case