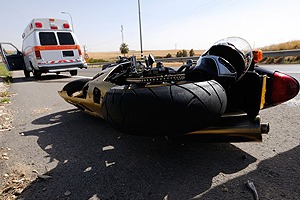 As the calendar turns to spring and warm weather approaches, thousands of motorcyclists will soon be out on Ontario's roads and highways. As motorcycle enthusiasts return to the road, it is important to remember that all drivers must work together to safely and responsibly share the road.
At Cariati Law, we take the safety of motorcyclists in Ontario extremely seriously. Our Ontario Motorcycle Accident lawyers want to share important information that can help motorcyclists and all other Ontario drivers arrive safely at their final destination.
Studies have shown that motorcyclists are up to 15 times more likely to be involved in traffic accidents compared to drivers in cars, trucks and other passenger vehicles. Some biker accidents are caused by rider error, unsafe speed or reckless behavior. However, many motorcycle accidents are caused by other drivers.
All drivers should always pay special attention when a motorcyclist is in sight, especially during the summer months when motorcycle traffic is most frequent.
Here are some important safety tips that drivers should keep in mind when sharing the road with motorcycles:
Take an extra moment to look in your side-view mirrors when changing lanes or turning at intersections. Many accidents involving motorcycles occur when drivers simply fail to see riders in their blind spots.
When driving behind a motorcycle, keep a safe following distance. Motorcyclists are often forced to brake quickly in order to avoid common road obstacles such as branches and potholes that other motorists can easily ignore.
Give motorcycles the same respect you would give a car or passenger vehicle.
Motorcycles may be smaller than cars and trucks, but they still need safe space to operate on the road.
There are over 200,000 registered motorcycles in Ontario Canada.
Riding a motorcycle is a great way to enjoy the beautiful scenery of Toronto, Mississauga, Hamilton and all the other wonderful areas throughout Canada. Please drive defensively this spring and summer and help protect the safety of all Ontario motorists.
If you or a loved one was injured in a motorcycle accident that was not your fault, call Cariati Law at 905-629-8040. When you call, you will speak with an experienced Toronto, Mississauga and Hamilton, Ontario Motorcycle Accident lawyer absolutely FREE.
Our dedicated and compassionate lawyers have extensive experience protecting the rights of motorcycle riders that were injured through no fault of their own. At Cariati Law, we will investigate every detail of your accident at no cost to you. You will never pay a lawyer's fee up front, and you owe us nothing unless we recover for you.
At Cariati Law, we don't get paid until you do.
Cariati Law – Passion Behind Every Case