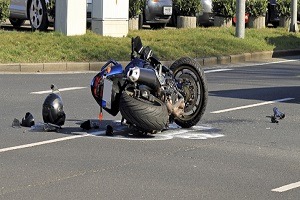 A 28-year-old motorcyclist was fatally injured in a collision late last night in Toronto. Sadly, Police are reporting that the driver committed numerous errors and violations that ultimately lead to this tragic accident. Police believe that this is the second motorcycle death on Toronto roads thus far in 2015.
The collision took place in the early morning of Thursday, May 7th on Rosedale Valley Road, between Yonge Street and Bayview Avenue. Constable Clint Stibbe of the Toronto Police traffic services unit told investigators that this particular stretch of winding road has proven to be extremely dangerous and problematic for motorcyclists in the past. Const. Sibbe reported that Police have responded to numerous accidents along this same road that have caused serious injuries to bikers.
To make matters worse, investigators discovered that the biker had only received his M1 motorcycle license, a beginner's license given to only the most inexperienced riders. The stipulations of the M1 license forbid bikers from riding outside of daylight hours, traveling at speeds in excess of 80 km/h, as well as riding with a passenger. Tragically, this biker disregarded every single one of these rules at the time of the accident.
The inexperienced rider was not only out at night, but was carrying a 20-year-old passenger with him. Both the cyclist and his passenger were thrown from the motorcycle during the crash, resulting in fatal injuries to the driver and "life-threatening" injuries to the passenger. Finally, witnesses of the crash also reported that speed was a significant factor in causing this accident.
This incident serves as a tragic reminder that motorcycle license grades are in place for a reason. Motorcycles are powerful and occasionally dangerous vehicles, and it requires a great deal of skill and experience to operate them properly. If you are considering buying a motorcycle in Ontario, click here to read about the requirements you will have to meet in order to safely and legally operate your vehicle.
Riding a motorcycle is an exhilarating way to experience the beauty of Toronto and Ontario in the spring and summer. Toronto Police have already launched a campaign to increase motorcycle safety awareness in Ontario, and you can read more about this campaign as well as proper motorcycle safety tips here.
Unfortunately, even with the proper planning and safety measures in place, accidents such as this can still happen. If you or a loved one has been injured while riding a motorcycle through no fault of your own, you will need the representation of an experienced Toronto Injury Law Firm. Call Cariati Law, Toronto, Ontario Motorcycle Accident law firm today at 905-629-8040.
A motorcycle accident can be devastating for victims and their families. Mounting medical bills, lost wages, and emotional pain can take their toll, so trust the experienced and compassionate lawyers of Cariati Law to protect your rights as a victim.
Call today to receive a FREE, confidential and no-obligation consultation. Your case and your injuries are serious, and at Cariati Law, we treat them that way.
Cariati Law – Passion Behind Every Case