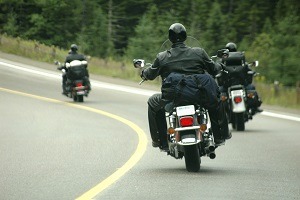 For many motorcycle owners in Ontario, the end of cold, snowy weather signals the beginning of spring riding season. This is an exciting time for motorcycle enthusiasts, but as eager as riders may be to get their bikes on the road, there are still a great many safety concerns that must be addressed first.
This year, Toronto Police want to get the riding season off on the right foot by reminding both motorcycle riders and automobile drivers that motorcycle safety requires a joint effort and awareness from everyone on Ontario's roads and highways. Police are quick to point out that this campaign does not single out motorcycle riders as dangerous or reckless, or even necessarily as the main cause of most motorcycle accidents. In fact, a great deal of collisions involving motorcycles occur when the rider has done nothing wrong.
Too often, cars, trucks and other motorists do not pay attention to motorcycles, which can create dangerous situations that result in Toronto motorcycle accidents. Because of this, Toronto police felt that it was necessary to hold a motorcycle safety session this morning that will shed some light on the injuries and fatalities related to the start of spring riding season. This safety session took place this morning, March 23rd, from 6-10am at 9 Hanna Ave.
Constable Clint Stibbe, one of the organizers of the event, stated that the focus would be on motorcycle equipment safety, rider protection, and training. The Toronto Police also released some harrowing statistics about the frequency and severity of motorcycle accidents in Ontario:
Since 1995, there have been 62 fatal injuries to motorcycle riders in Ontario.
15 of those fatalities were riders under the age of 25.
36 of the 62 victims were between the ages of 25 and 39.
All 62 motorcycle fatalities were male riders.
Toronto Police also want to remind motorcycle riders that there are steps they must take to protect themselves on the road. Here are some important tips to keep in mind for motorcycle owners getting back on the road this spring:
Make sure you have professional training before your first ride. The proper training can make a crucial difference if you find yourself in a dangerous scenario while riding.
Check your safety gear before the start of every season. Be sure you have an approved motorcycle helmet that fastens properly, and keep a second helmet handy in the event you want to take a passenger along for the ride.
Keep your speed under control. Many motorcycle accidents that are not caused by other drivers are the result of excessive rider speeds. In addition, be sure to keep a safe cushion between your motorcycle and other cars or vehicles on the road. An extra split-second can give you the necessary time to react to, or even avoid, an accident.
Be highly visible and predictable to other drivers. Ensure your turn signals and brake lights are fully functional, and wear brightly colored and highly visible clothing if you are planning to go out for a ride at night.
At Cariati Law, Toronto, Ontario Accident and Injury law firm, we are proud to represent motorcycle riders that have been injured through no fault of their own. Whether you were injured while riding due to dangerous or poorly maintained roads, a reckless or intoxicated driver, or any other factor beyond your control, you deserve compensation for your serious injuries. Call the experienced motorcycle accident lawyers at Cariati Law today at 905-629-8040. You will speak with a lawyer for FREE, and our legal team will help you understand the details of your case.
If you or someone you love have been injured in a motorcycle accident, the same laws apply as if you were in an Ontario, Canada car or truck accident. These laws require that the person, or company, responsible for the accident pay for your motorcycle repairs and injuries.
Call the Toronto Motorcycle Accident lawyers at Cariati Law now. A Cariati Law motorcycle accident lawyer will protect your rights and make sure you get the help you need.
Cariati Law – Passion Behind Every Case