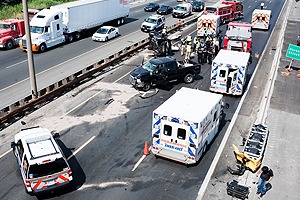 A recent traffic accident caused by "erratic driving" had devastating consequences for several Ontario motorists. Police say that one driver was killed and six other people were seriously injured in a two car accident on Highway 403 in Mississauga last weekend. The accident took place at around 10:30pm on Sunday, January 24th and left eastbound lanes of Highway 403 closed for several hours as crews worked to clear the road.
Ontario Police say that the accident occurred when the driver of an SUV rear-ended another passenger vehicle. Police say that there were reports that the driver that caused the accident was "driving erratically" prior to the collision. An investigation into the cause of the accident is ongoing, and Police have not yet announced whether they believe alcohol impairment or distracted driving may have been a factor in the crash.
There were a total of eight occupants between the two cars, and Police reported that several people were ejected from their vehicles during the crash. In total, seven people were taken to the hospital after the accident. Two were listed in critical condition, and one motorist was fatally injured.
Tragic traffic accidents such as these can often be prevented when drivers obey posted speed limits, keep their eyes on the road drive defensively. Unfortunately, far too many Ontario drivers are injured or killed in traffic accidents every year.
At Cariati Law, Toronto, Hamilton and Mississauga, Ontario Personal Injury law firm, we would like to remind all motorists to slow down and drive carefully, especially during winter months when road conditions can be treacherous.
If you or a loved one suffered serious injuries in a car, truck or motorcycle accident that was not your fault, call Cariati Law right away at 905-629-8040. When you call, you will speak with one of our experienced Ontario Car Accident lawyers absolutely FREE. We will investigate every detail of your accident and fight to protect your rights.
At Cariati Law, you will never pay a lawyer's fee up front. In fact, you owe us nothing unless we recover for you. At Cariati Law, we don't get paid until you do.
Cariati Law – Passion Behind Every Case