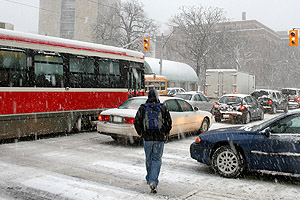 Ontario Police are reporting that winter storms were responsible for causing hundreds of car accidents throughout the GTA over the last few weeks. Extended periods of snow, sleet and freezing rain are creating dangerous road conditions for motorists, and drivers are being urged to slow down and allow extra time on the road in order to arrive at their destinations safely.
Snow showers are expected to continue this week, making the daily commute more dangerous than normal for motorists. Police have launched a social media campaign titled "See Snow Go Slow," urging drivers to prepare for delays.
There were over 330 traffic collisions reported in the GTA due to dangerous road conditions during Toronto's last winter storm on December 29th. This spike in road traffic accidents shows that it will be especially important for Toronto and Ontario drivers to take special precautions while driving over the next few months.
In order to avoid preventable traffic accidents during periods of rain and snow, the lawyers and staff at Cariati Law encourage all Ontario motorists to keep a few basic safety tips in mind:
Make Sure Your Vehicle is Prepared: Before any major storm it is important to check your car and make sure you have all the right equipment that can help keep you safe during winter weather.

Install and properly inflate your winter tires
Make sure your battery is fully charged and your headlights and brake lights are fully functional
Keep an ice scraper and flares handy in case of an emergency

Stay Informed: Keep an eye on the weather forecast so that you can be prepared for delays during your commute. Plan ahead and leave yourself extra time to arrive at your destination if there is snow, sleet or freezing rain in the forecast.
Slow Down: Never speed or drive aggressively during periods of bad winter weather. Car accidents happen much more frequently during inclement weather, and speeding and aggressive driving only increase your odds of being involved in a car accident. Remember, even if you may be a few minutes late, nothing is more important that arriving safely.
Please slow down and drive safely this winter.
If you or a loved one is involved in a car accident caused by the negligence or carelessness of another driver, call Cariati Law right away at 905-629-8040. At Cariati Law we have years of experience successfully representing Toronto motorists that were injured in accidents.
Before you call the insurance company, call Cariati Law first. When you call, you will receive a FREE, confidential consultation with one of our experienced and knowledgeable Toronto, Ontario car accident lawyers. We will review every detail of your accident and fight hard to ensure your rights are protected.
At Cariati Law, you will never pay a lawyer's fee up front. We take all cases on a no-win, no-fee basis, and we don't get paid until you do.
Cariati Law – Passion Behind Every Case