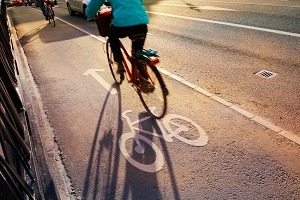 Hundreds of bicycle enthusiasts gathered in front of Toronto's city hall on Friday evening to make their voices heard and call for increased safety measures to protect Ontario's cycling community. This public demonstration was inspired by the tragic deaths of three Ontario cyclists that were fatally injured in the last three weeks following traffic collisions. Toronto residents that cycle to work or school, or simply enjoy biking as a hobby, are concerned that the city government could be doing more to ensure their safety on the roads.
Friday's protest involved three minutes of silence, one minute for each cyclist that lost their life on a Toronto road or highway in the past month. The organizer of the protest was Jared Kolb, executive director of Cycle Toronto. Mr. Kolb explained that the goal of Friday's demonstration was three-fold.
First, activists are demanding that Toronto adopt a "Vision Zero" policy aimed at eliminating road fatalities for cyclists and pedestrians. Second, they are demanding that Toronto's city government boost spending on cycling infrastructure from $8 to $20 million per year. Finally, the group also wants to see the construction of new, protected bike lanes that will separate cyclists from other vehicles.
At Cariati Law, our lawyers have represented far too many victims and families that have been injured through no fault of their own while riding a bike in Ontario. We want to do everything in our power to help eliminate these types of preventable accidents. While the city of Toronto can certainly take many positive steps to improve the infrastructure that will protect cyclists, there are many steps that bicycle enthusiasts can also take to protect themselves.
Several studies by Ontario researchers on this topic reveal that while expanded and protected bike lanes would certainly be helpful, the best thing cyclists can do to ensure their safety is to wear a helmet at all times.
A 2012 study examining all 129 bicycle fatalities in Ontario from 2006 to 2010 found that increased awareness about bicycle safety techniques and proper helmet education could go a long way towards preventing nearly all of the fatal accidents.
A separate 2012 study conducted by a researcher at the University of Toronto concluded that cyclists that ride without a helmet are three times more likely to die of a head injury than cyclists that wear their helmet.
Currently, Ontario law stipulates that only riders under the age of 18 must wear their helmet while biking at all times. Unfortunately, the same 2012 study pointed out that 88% of cycling fatalities involved victims over the age of 18. This study suggested that Ontario examine the possibility of creating mandatory helmet laws to protect cyclists.
Cycle Toronto publishes a wonderful Toronto Cyclists Handbook that you can view here for more information and resources about biking in our city. For more statistics and bicycle safety tips from Cariati Law, click here.
At Cariati Law, Toronto Accident and Personal Injury law firm, we know that even when we follow all the proper safety precautions, accidents can still happen. We would like to remind all Toronto cyclists to obey the rules of the road, wear your helmet at all times, and stay safe as you bike around our city.
If you or a loved one has been injured in an accident caused by the negligent conduct of another party, call Cariati Law today at (905) 629-8040. When you call, you will receive a FREE, confidential and no-obligation consultation with one of our experienced Toronto, Ontario Personal Injury lawyers. Trust Cariati Law to examine the details of your case and provide the answers and justice you deserve.
Remember, when you chose Cariati Law to represent you in your Personal Injury matter, you will never pay a lawyer's fee unless we achieve a recovery for you.
Cariati Law – Passion Behind Every Case