Essure Has Hurt Thousands; You Are Not Alone. Your Justice Starts Here.
Essure is a medical device that was marketed and sold to women in Canada and the United States as a safe and non-surgical solution for permanent birth control. Originally designed and manufactured by Conceptus Inc., Essure was sold in Canada and the United States by Bayer, a large multinational corporation.
Since it was introduced in 2001, over 10,000 women in Canada were implanted with the Essure device.
In 2016, Health Canada did a safety study on Essure and found that there was a serious risk of complications from the device. Similarly, in the United States, Essure was given a "black box warning" – the highest warning of risk given by the FDA – which is designed to call attention to serious or life-threatening risks. Essure was removed from use in Canada in 2017.
In recent years many thousands of women who were implanted with Essure have come forward with complaints of serious, and even life-threatening side effects from the device.
What is Essure?
Essure is intended to provide permanent birth control without surgery (i.e. as an alternative to tubal ligation). The Essure device is made up of flexible metal coils and polyethylene fibers, which are inserted into the fallopian tubes. Once in place, the device is supposed to cause an inflammatory response leading to the formation of scar tissue in the fallopian tubes, which then acts as a barrier to sperm and thus prevents conception.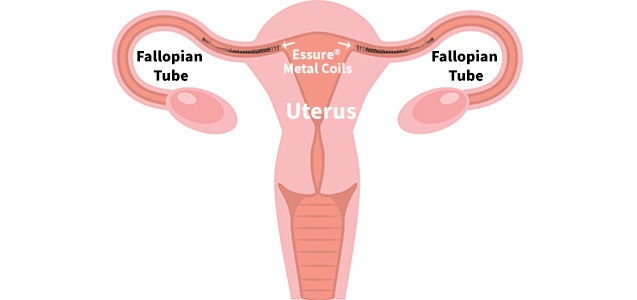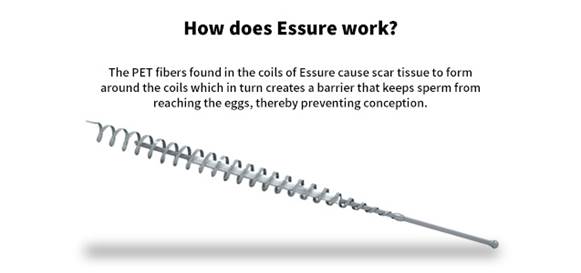 Reported Side Effects of Essure
Despite being marketed by Bayer as a safe and effective birth control device, Essure has been reported to cause numerous serious and potentially life-threatening side effects, including:
Abnormal/heavy menstrual bleeding
Severe menstrual pain
Severe pelvic pain
Unintended/ectopic pregnancy
Breakage and/or migration of one or both micro-inserts
Perforation of the uterus, fallopian tube or other pelvic organs
Nickel poisoning
Autoimmune disorders
Who is Affected
Since its approval in 2001, over 10,000 women in Canada have been implanted with the Essure device. To date, the exact number of these women who have experienced negative side effects is unknown. However, in the U.S.A. approximately 18,000 women have taken legal action against Bayer in relation to Essure, alleging they have suffered injuries due to defective design and a failure to warn of known risks.
Treatment Options
Typically, the only medical treatment available to women negatively affected by Essure has been to undergo a complete hysterectomy (surgical removal of the uterus and fallopian tubes). Even after undergoing a hysterectomy, many women continue to report serious ongoing medical issues.
Your Rights
As a patient, you have the right to trust that a medical device has been properly designed and tested, and to be made aware of the risks and potential side effects of that device. At Cariati Law, we believe that device manufacturers should be held accountable when their defective devices cause harm to unwitting patients.
Cariati Law Can Help
Legal claims arising from defective medical devices like Essure can be complex, lengthy and expensive. If you or a loved one has been harmed by the Essure device, you need the services of a competent and experienced law firm.
Act now. Call the product liability professionals at Cariati Law today at 905 629 8040 for a free legal consultation.