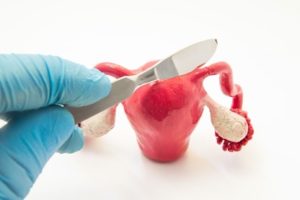 Since its FDA approval in 2001, thousands of women have experienced serious medical complications from the Essure birth control medical device. Labeled as the world's only non-surgical permanent birth control device, Essure has been implanted in almost 750,000 women globally—over 10,000 right here in Canada.
Despite its popularity, however, Essure has proved to be a highly controversial form of birth control, with thousands of women reporting serious irreversible medical complications from the device. Many women have had to have their Essure birth control device surgically removed.
If you have suffered serious medical complications from Essure, you may be eligible to file a legal claim. Keep reading to learn more about the history of Essure complications, your eligibility to file a lawsuit against Essure, and how you can start the legal process to obtain the compensation you deserve.
What is Essure birth control?
Essure birth control was created and approved for use in 2002 as the only permanent birth control device available on the market. It is a small metal insert that is placed through the cervix and into each of a woman's fallopian tubes in order to permanently block them. Over a period of three months, scar tissue that forms around the device acts as a contraceptive and causes the user's sterility.
Although deemed a 99% effective permanent birth control device by its manufacturer, Bayer, negative side effects in impacted users were reported to emerge soon after implantation. From November 2002, when Essure was FDA-approved, to January 2020, the FDA received almost 64,000 medical reports from users regarding issues with Essure. The device was voluntarily discontinued by Bayer due to a "change in patient demand", but many question whether this action was a safety precaution or an admission of fallibility by the company.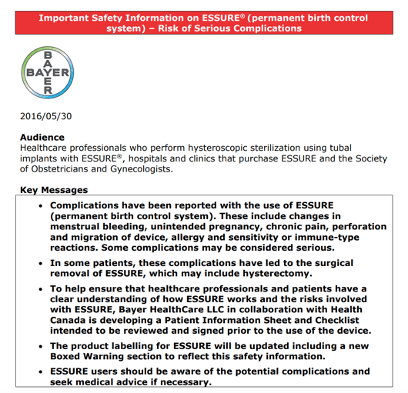 What are the side effects of Essure?
In 2016, Health Canada recalled Essure due to a 'risk of serious complications. The side effects related to Essure most reported by women are:
Hemorrhaging
Perforation of fallopian tubes, uterus, or colon
Broken or misplaced device, resulting in surgical removal, often requiring a hysterectomy
Hair loss
Depression and/or anxiety
Weight fluctuation
Ineffectiveness as a contraceptive resulting in pregnancies and/or ectopic pregnancies
Device allergies
Pelvic and/or abdominal pain
Heavier and/or irregular menstruation
This is not an exhaustive list. Along with these side effects, at least 40 deaths have been reported in relation to Essure. Health Canada has indicated that many patients were not aware of many of the possible side effects at the time of their implantation and that the listed side effects were not comprehensive enough to understand the risks.
Are you eligible to file a lawsuit against Essure in Canada?
If you are an Essure user who has undergone a negative experience with the device, you may be looking to take legal action. In order to be eligible to file a lawsuit against Bayer in Canada in relation to Essure, you must have been implanted with Essure and have been negatively impacted by its side effects. The legal process in Canada, however, varies significantly to that of the U.S. Check out the list of negative side effects above or on the FDA website to determine if you may be eligible to file a lawsuit against Essure in Canada.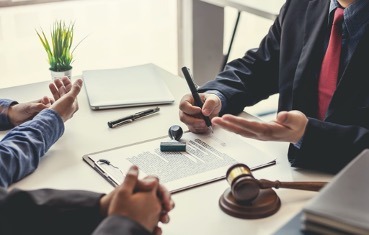 Do I need a lawyer to file an Essure lawsuit in Canada?
Whereas Bayer has agreed to pay over $1.6 billion to settle approximately 90% of U.S. Essure lawsuits, mostly due to extensive court costs, the pharmaceutical company has not agreed to settle any cases in Canada to date. Medical device side effects would typically make for a standard product liability case, however, due to the complicated nature of Essure's federal protection laws and other difficulties in cases such as these, it is essential to have an experienced lawyer to help you navigate the system.
New information is continuing to arise about Essure that may help with Essure legal claims in Canada. There are assertions from various lawsuits that Bayer did not report thousands of adverse effects claims reported by women. In Canada, hospitals and obstetrician-gynecologists were not mandated to report adverse effects to Health Canada, leaving only manufacturers and importers the responsibility of submitting adverse events reports. Only in recent years has it been mandated by Health Canada for hospitals to report side effects from Essure.
Due to these circumstances, it is recommended that you work with an experienced personal injury lawyer when filing an Essure lawsuit in Canada.
How do I begin the Essure legal process in Canada?
If you or a loved one has been impacted by the side effects of Essure, your first step should be to seek a reputable law firm that has experience navigating unique product liability cases such as this.

Cartiati Law personal injury lawyers have witnessed the pain and suffering these incidents have caused for women and their loved ones, and they want to fight for you. No one should have to suffer the effects of a product that should never have been on the market in the first place. Let us help you hold the responsible party accountable. Although financial compensation can't undo the distress brought on by Essure side effects, it is a step towards justice that we can help you take.
Learn more about Canadian Essure legal claims and how Cartiari Law Essure Lawyers can help by contacting us for a free consultation today.