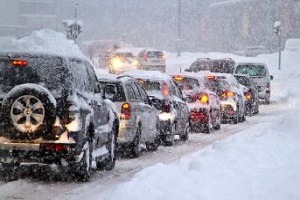 Spring may be just around the corner, but the Greater Toronto Area received a sudden blast of winter weather on Sunday, 4/3. Snow, ice and freezing temperatures combined to create a dangerous situation for drivers. Even as Ontario motorists look forward to warmer weather, it is extremely important that drivers remain cautious during periods of snow, rain and ice.
The Ontario Provincial Police reported over 100 collisions throughout the GTA starting on Sunday evening and continued during the Monday morning commute. On Sunday evening, the poor road conditions caused a major pileup that sent nine motorists to the hospital. The pileup started on Highway 400 near Highway 9 and involved between 20 and 40 vehicles, including two large transport trucks. Authorities at the scene said the pileup reached nearly a kilometer in length.
At Cariati Law, Toronto, Mississauga and Hamilton, Ontario personal injury law firm, we want all Ontario motorists to arrive at their destinations safely. We have shared important tips for safe driving during winter weather in the past, but here are a few additional safety tips for motorists to keep in mind this month:
Stay Up to Date: Listen to your local weather report and stay informed about periods of potentially dangerous winter weather. Late winter and early spring storms can happen suddenly, so make sure you are prepared.
Don't Put Away Your Winter Equipment Just Yet: It may be April, but that does not necessarily mean the end of winter weather in Ontario. Keep your winter weather emergency equipment close at hand, keep your tires fully inflated, and make sure your brakes, tail lights and windshield wipers are functioning properly.
Keep Your Eyes on the Road: During periods of inclement weather, driver distractions like using a cell phone, eating or grooming become even more dangerous than usual. Keep your eyes and your attention focused on the road at all times. Additionally, if you know that there is snow, ice or rain in the forecast, slow down and obey all posted traffic signals.
If you or a loved one suffered injuries in any type of motor vehicle accident that was not your fault, call Cariati Law right away at 905-629-8040. When you call, you will speak with an experienced Toronto, Mississauga and Hamilton, Ontario Car Accident lawyer absolutely FREE. We will investigate every detail of your accident and fight to get you the full and fair compensation you deserve.
At Cariati Law, you will never pay a lawyer's fee up front, and you owe us nothing unless we recover for you. At Cariati Law, we don't get paid until you do.
Cariati Law – Passion Behind Every Case