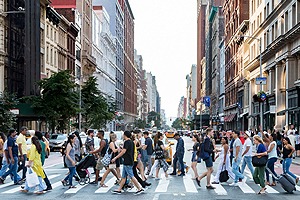 Despite joining other cities in the "Vision Zero Pledge" nearly two years ago, Toronto authorities recently announced that 2018 may be the city's deadliest year for both pedestrians and cyclists. On Tuesday, an unidentified cyclist became the 90th pedestrian or cyclist to die in Toronto since Mayor John Tory announced the initiative on June 13, 2016.
The full article is available here.
What is Vision Zero Toronto?
Many cities in Canada and the U.S. have joined Vision Zero—a campaign to reduce traffic deaths to zero. Vision Zero seeks to reduce speeds, build safer streets, address distracted or impaired driving, and hold drivers and pedestrians responsible for safety. In Toronto, the program has led to:
Installation of 800 lower speed limit signs
More than 60 new pedestrian signals
Over 5,700 metres of new sidewalk
Other developments include nearly 20,000 kilometres of zebra-marked pavement in school safety zones, senior safety zones, and pedestrian safety as well as new bike lanes and improvements made to several busy intersections. In other cities—such as Boston—Vision Zero has reduced speed limits and installed several speed radar signs.
Still Work to Be Done
In an earlier blog, we reported at least seven Ontario cyclists will find themselves in an emergency ward every day. It appears this alarming trend continues.  The City of Toronto calls Vision Zero "a bold pledge" toward safety, adding "fatalities and serious injuries on our roads are preventable, and we must strive to reduce traffic-related deaths and injuries to ZERO."
We're Here to Help
If you or a loved one has been seriously injured in any type of bicycle accident or pedestrian accident, call Cariati Law at 905-629-8040 for help. When you call, you will speak with an experienced Toronto Personal Injury lawyer absolutely FREE. We will investigate your accident, handle all the paperwork, and manage your entire claim—so you can focus on your recovery.
At Cariati Law our top accident lawyers will investigate every detail of your accident for free. All cases are handled on a contingency fee basis, which means you pay us nothing up front. In fact, we only get paid after you do, and if there is no recovery, there is no lawyers fee.
Contact one of our Toronto serious injury lawyers at 905-629-8040 for help today.
Cariati Law – Passion Behind Every Case