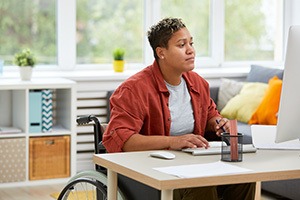 If you can no longer work because you are hurt, sick, or suffering from a physical or mental disability – it is time to apply for long-term disability insurance benefits. No one anticipates becoming medically incapacitated to the point that we can no longer work. A person filing a long-term disability claim has many hurdles to clear, however, before benefits are approved. The most important is to prove that you meet your insurance policy's definition of disability. There are also requirements that you must keep in mind when applying for long-term disability benefits. Keep reading to learn more.
Overview of Long-term Disability Insurance Benefits
Long-term disability benefits are intended to pay disability replacement income for several years, often until 65. Long-term disability picks up where short-term disability coverage leaves off and will replace 60% to 70% of your regular income.
To qualify for long-term disability benefits, you must be covered under a disability plan or insurance policy. You may purchase a policy through a provided by your employer, or an individual disability insurance policy you bought yourself. You're generally eligible to apply for long-term disability benefits if an illness or accident causes your disability. If a workplace accident caused your disability, then the long-term disability benefits will overlap with workers' compensation benefits.
Long-term Disability Claim Deadlines
The insurance company can easily deny benefits if the deadline for filing a long-term disability insurance claim is missed. It's essential to be aware of these deadlines to decrease your chances of having your insurance claim denied. Deadlines vary depending on the policy you've taken and the insurance company. Therefore, don't delay contacting a disability insurance lawyer who will guide you through the process and notify you of any deadlines.
How Long Do You Have To Wait To Collect Long Term Disability?
Once you file a claim, the claim must be evaluated, approved, and a mandatory waiting period must be completed. You will need to be out of work for several months before you can start collecting long-term disability benefits. This waiting period is called an 'elimination', 'waiting' or 'qualifying' period, and can range from 90 to 180 days. Consult your policy, your employer or speak with a lawyer for clarification.
How Do I Start Receiving Long-Term Disability Benefits?
If you want to receive LTD benefits, it is required that you first file a claim. Depending on where you are receiving your policy will determine how you proceed. If your plan is through your employer, contact your company for instructions on filing your claim. Otherwise, contact your insurance provider.
What Information Is Required For Filing a LTD Claim
Your claim will have different components to fill out for you, your employer, and physicians. When filing a disability claims form, you'll generally need to provide:
Demographic/Personal Information
Banking Information
Your Treating Doctors Contact Information
Additional Income Sources (if applicable)
Work History
Any Diagnostic and Treatment Documents Regarding Your Disability.
While your physician is likely required to fill out a form describing your condition and prognosis, the insurance company may ask you to be examined by one of their doctors as well. It's crucial that you accurately describe your symptoms to healthcare practitioners, so they can help you receive the care and compensation you need.
Contact a Long-Term Disability Lawyer Today
Some individuals think that they can easily file their long-term disability claim without the help of a lawyer. However, in most cases, this can be a mistake and can potentially put a hold on receiving your benefits. The insurance company's goal is to avoid, minimize, or delay your insurance claim, and will explore all ways and means to achieve this. Fighting insurance companies alone can feel like an uphill battle, however, with an experienced lawyer on your side it doesn't have to be.
Contact a Cariati Law Disability Insurance lawyer in Toronto, Mississauga, or Hamilton, Ontario today at 905-629-8040. When you call, you will receive a FREE, confidential consultation about your situation. Our lawyers understand that there is physical and emotional stress dealing with a long-term or short-term disability. Our focus is always to help disabled people and their families ease the financial burden caused by a sudden lack of income.