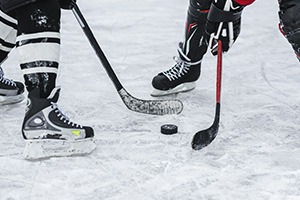 Each day 452 people suffer a concussion in Canada; that is one person every three minutes. Unsurprisingly, children are often susceptible to these types of injuries as they often engage in contact sports – especially winter sports. In fact, according to Brain Injury Canada, children account for 30 percent of all brain injuries in Canada, making it the leading cause of death and disability among children.
Winter Sports and Hockey
Aside from skiing, snowboarding, and sledding, when it comes to winter sports youth hockey is among the most dangerous. And according to the Canadian Institute for Health Information, from 2014-15, in Ontario and Alberta, the number of emergency-room visits for TBIs from hockey was almost twice of that from football, rugby, skiing, and cycling.
Hockey is often associated with repeated brain injury such as concussions and chronic traumatic encephalopathy, a neurodegenerative disease. This is evidenced by numbers of professional players who have lost their careers and even their lives due to traumatic brain injuries.
In order to combat these long-term issues associated with TBI, hockey organizations have changed rules, implemented return-to-play policies, and concussion-education programs.
In 2013 Hockey Canada eliminated body checking at the peewee level, usually up to the age of 17, which has already greatly reduced the risk of concussion for young players. Furthermore, manufacturers are currently attempting to design more protective gear and researchers are trying to find a better way to test for concussions.
A traumatic brain injury (TBI) can occur due to a direct hit, jolt, or bump to the head, rapid acceleration or deceleration of the head from whiplash, or an injury that penetrates the head and disrupts normal brain function. This often leads to permanent disability or even death.
Symptoms of TBI
TBI can be anything from a mild concussion to a life-threatening injury. Symptoms to be aware of include:
Nausea/vomiting after injury
Headache
Blurred vision
Dizziness
Feeling slower than normal
Difficulty with balance
Difficulty concentrating
Difficulty remembering new information
Sensitivity to light or noise
Protecting Yourself and Your Children
While traumatic brain injury is not 100 percent preventable, there are certain measures that can be taken to minimize your risk. These include the following:
Always wear a properly fitting helmet
Always wear the helmet during any contact sports/activities
Replace your helmet after a serious fall
Be aware of your own skill level
Stay alert
Always watch your children – especially while they are engaged in any risky sports or TBI-susceptible activities
If you find that concussive symptoms are mild and improving over time, they are likely less severe. But if you should experience any worsening symptoms or decreasing levels of consciousness, it is important that you seek medical attention right away. If you are more than a few minutes away from the closest hospital, dial 9-1-1.
Cariati Law Can Help
If you or a loved one has experienced a traumatic brain injury – whether while engaging in a winter sport or otherwise – due to the negligence or recklessness of another person or entity, it can impact many aspects of your life. That's why it is so important to consult with an experienced and knowledgeable Personal Injury Lawyer.
At Cariati Law, our top personal injury lawyers will handle your case for free – you pay nothing until we do. Contact one of our Toronto Personal Injury Lawyers at 905-629-8040 today!