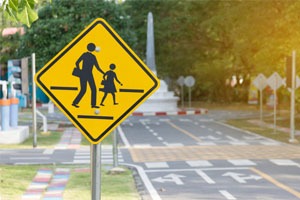 As the beginning of the school year is upon us, there are different things to keep in mind in order to remain safe – and keep our children safe – throughout the school year. One area that we must be aware of is that of school zones. Here is what you should know regarding school zones in Ontario. 
Speeding in a School Zone
Although it is always important to obey the speed limit, it is especially important when you are driving through a school zone. Since children are often crossing back and forth over the street without paying much attention. This means not only driving slowly during the morning and afternoon when children are going to and coming from school, but also during the course of the day since they are often playing outside for recess, lunch, or even sometimes classes.
Fines for speeding in school zones are increased by up to 60 percent, and you will receive 3 demerit points should you be caught going more than 20km over the speed limit. Signs, which have flashing amber lights, identify school zones. These are placed at the entrance of the zone and at its exit, and may in some cases, detect and display the speed of an approaching vehicle.
Follow School Zone Rules
To keep school zones safe it is important to remember the following when you are driving your kids to school:
Do not double park
Do not stop on the crosswalks
Do not stop on the opposite side of the street when letting children out
Do not stop in moving traffic
Stop when you see a school bus with flashing red lights
Do not pass a school bus when it is letting children off or on – unless the two directions of the road are separated by a median
If you pass a school bus with flashing lights, you risk receiving a fine and a penalty.
Tips for Increasing Safety
It is also a good idea to be proactive in order to increase safety. Some things that can help include the following:
Reduce the number of cars in school zones at a time by carpooling children
Have schools designate specific areas for drop-off and pick-up locations
Always obey the speed limit
If you or a loved one has been injured in an automotive accident, you should not have to pay the price. At Cariati Law, our top personal injury lawyers will handle your case for free – you pay nothing until we do. Contact one of our Toronto Personal Injury Lawyers at 905-629-8040 today!