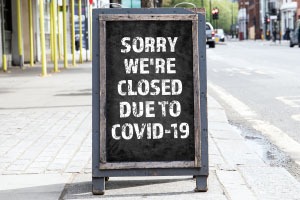 The COVID-19 pandemic and associated government-imposed restrictions have caused many businesses to experience a dramatic loss of revenue. As a business owner you are likely coping with feelings of fear and anxiety; you may be wondering how to keep your business afloat until restrictions are lifted.
While grants and government assistance can help, those who have business interruption insurance ("BII") coverage may have another tool at their disposal to mitigate income loss during the lockdown.
What is Business Interruption Insurance?
Business interruption Insurance is a type of coverage that helps to protect you when certain unforeseen events, referred to as "covered perils," have a negative effect on your business. Every policy wording is unique, however common covered perils include:
Fire
Theft
Lightening
Floods
Wind/weather damage
Business interruption coverage includes a "restoration period" (usually up to 12 months) during which your policy will help to reimburse you for lost income and/or additional expenses such as temporary relocation, repairs, and employee wages.
Typically your policy will also require you to take timely and prudent action to reduce your losses, such as by performing emergency repairs. You may be eligible to be reimbursed under the policy for such expenses, but it's always best to keep evidence of what you've done via photos, videos, and receipts.
Is COVID-19 a Covered Peril?
It depends on the wording of your BII policy!
Every policy is different. Some policies have specific exclusions for viruses and/or pandemic events; others may not. Sometimes the wording of the policy may be ambiguous, even on such an important question as this.
Since the Covid-induced economic shutdown, many thousands of Canadian businesses have filed claims under their BII policies. As yet it remains unclear what position most insurers will be taking on coverage for these claims. Certainly the financial stakes are huge both for insurers and their clients. For many business owners with BII coverage, it will be necessary to bring legal action to enforce their claims. Ultimately the issue may end up being decided by the Courts. Until then, many business owners such as yourself will face challenging disputes with their BII insurance providers, for which competent legal representation is essential.
Cariati Law Can Help
Small businesses continue to suffer during this challenging time. Individuals who purchased business interruption coverage did so to protect themselves and their hard-earned investments. They paid a premium for their policy so that they would be protected, in case an unforeseen event made it impossible for them to conduct their operations or use their property.
You may be contemplating submitting a claim under your BII policy, or you may have already submitted a claim and been denied. Either way, it is critical that you retain the services of a qualified insurance dispute lawyer, who can analyze the wording of your BII policy and the facts of your specific case.
If you have questions about your BII coverage, or if your BII claim has been denied, call the qualified and experienced lawyers at Cariati Law today at (905) 629 8040 for a no-charge consultation.