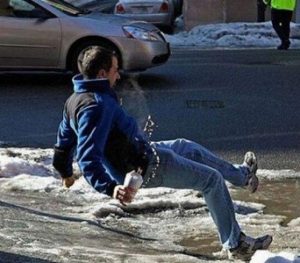 Slip and fall injuries are no joke.  Throughout Canada, slip and fall accidents are extremely common, and are the leading cause of injury after car accidents. According to Statistics Canada unintended falls may account for more than 40% of all reported injuries.
Because slip and fall injuries are so common, it is very important to be aware of what you should do if you're ever involved in a slip and fall accident.
If You Are Injured
Always get yourself to a hospital or call for medical help if you are injured from a slip and fall. Even if you are unsure if you are injured initially, it is always better to play it on the safe side and seek medical attention as occasionally injury symptoms may not develop right away.
If you are well enough, take as many notes on the situation as you can. Write down the date, the property address, and the property owner's name. If there are any witnesses, ask them for their names and numbers as well. These facts may become extremely valuable later if you need to seek compensation.
Have an experienced personal injury lawyer report the accident and your injuries as soon as possible. Do this even if you are unsure if you are injured; not notifying the property owner or insurance company right away may cause problems later if injuries develop and you need to seek compensation.
Take photos of the location where the injury occurred and of all visible injuries. If you are not well enough to do this on your own, have someone else take photos for you. The personal injury lawyer you hire to handle your claim may also send someone out to take pictures. These bits of information are extremely critical evidence and will play a large role in determining the value of your case.
It is very important that you do not speak to the property owner's insurance agency without first consulting with a qualified personal injury lawyer. It is the lawyer's job to make sure you are properly compensated for your injuries and will fight on your behalf.
Always Seek a Skilled Lawyer
The earlier you involve a lawyer in your case the better; a lawyer will be able to make sure you document all important pieces of evidence and will help to investigate your case fully and make sure you aren't taken advantage of. If you are unsure if you have a case you should still seek a free consultation with a qualified lawyer. There is never any obligation or fee on injury cases unless you are awarded compensation, and a personal injury lawyer will be able to assist you in your claim at every step of the way.
The experienced lawyers at Cariati Law are here to help. If you or a loved one have been injured in any type of accident, call Cariati Law for a free, no obligation, confidential consultation at 289 807 5165. There is never a fee for ours services unless we win for you. Our lawyers are committed to protecting your rights. When injured, make one call to Cariati Law.
Cariati Law, Passion Behind Every Case.