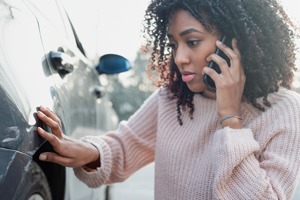 Any accident can be terrifying but a hit-and-run accident can be more overwhelming. For victims of hit-and-run accidents all is not lost. You still have some options available to you to receive justice. Below are steps you should take if you have been the victim of a hit-and-run accident.
1. Pull Over and Report the Accident
Immediately after a hit and run, the first thing you must do is pull to safety. Then, you should call 911. Calling 911 will dispatch personnel to the scene that can help treat you for any injuries sustained, and the police officer can also file an accident report, including things such as witness statements. This can later prove very helpful.
2. Seek Medical Treatment
Auto accidents can result in many different injuries, some very serious. However, sometimes the severity of an injury is not initially apparent. Even if you do not believe that you have been significantly injured it is still important to be checked out at the hospital or go to the doctor immediately. This will help to ensure that you do not have any internal, non-obvious injuries, and will also supply you with a medical record of any injuries you have incurred from the crash.
3. Report the Accident to Your Insurance
Individuals must generally notify their auto insurance companies of an accident within a short period of time.
4. Call a Lawyer
If you or a loved one has been injured due to the negligence or recklessness of someone else, you shouldn't have to pay the consequences. The experienced Personal Injury Lawyers at Cariati Law can help you move forward. To learn more or to schedule a free consultation, call us at 905-629-8040 today!