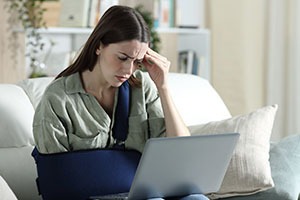 Long-term disability insurance generally starts when short-term disability insurance, sick leave benefits, and EI benefits end. Most LTD plans replace 60% to 70% of your normal income to go towards living expenses, including medical treatment and rehabilitation. Most people think that long-term disability insurance is for people who have been injured in an accident and unable to work due to their injury. While this is true, it's essential to know that many medical conditions may entitle you to receive disability payments from your insurer.
What is the Definition of Disability?
The definition of disability varies between insurance companies. However, generally speaking, most long-term disability policies cover you regardless of the type of illness or injury you are suffering from or the severity that stops you from working. In a long-term disability claim, there are two definitions of disability used to determine if you qualify for benefits. Generally speaking, an "own-occupation" policy will define "total disability" as a condition that prevents the insured from performing the duties at their regular occupation. With most insurance policies, the own occupation period lasts for two years. An "any-occupation policy" defines "total disability" as being unable to work in any profession. It's essential to read your policy or contact your insurance company to determine what tests are applicable and when they apply.
Illnesses or Injuries That Qualify For LTD Benefits
There are many reasons why someone may need to claim long-term disability benefits. You may need time off work due to an accident, temporary injury, or chronic illness. However, some policies exclude certain diseases, or they exclude work-related injuries or illnesses. For the details of what is covered, you need to read your policy. Some of the most common injuries and illnesses that qualify as a disability are:
Myofascial pain
Fibromyalgia
Various types of arthritis (osteoarthritis, rheumatoid arthritis, psoriatic arthritis)
Chronic fatigue syndrome
Post-surgical pain
Fractures/broken bones
Degenerative disc disease/spondylosis
Bulging discs
Nerve root impingement/sciatica/radiculopathy
Brain Injuries
Adjustment disorder
Major depressive disorder
Various anxiety disorders
Obsessive-compulsive disorder (OCD)
Bipolar disorder
Borderline personality disorder (BPD)
Schizophrenia
Migraines
Gastrointestinal disorders
Diabetes
Neurological disorders
Cancer
Was Your Long-Term Disability Claim Denied? Cariati Law is Here to Help.
Unfortunately, even when individuals have a legitimate cause for claiming their long-term disability benefits, the insurance company may deny the claim or offer an amount much lower than asked for. Filing a claim for long-term disability benefits can be a complicated, confusing, and lengthy process.
Each long-term disability insurance policy is different. If you or someone you love needs long-term disability benefits, Contact a Cariati Law Disability Insurance lawyer in Toronto, Mississauga, or Hamilton, Ontario today at 905-629-8040. Our lawyers can help you get the benefits you are entitled to, even if your claim has been denied.
Read more about Long Term Disability Insurance Benefit Denials. Don't give up. Call Cariati Law for help at 905-629-8040.