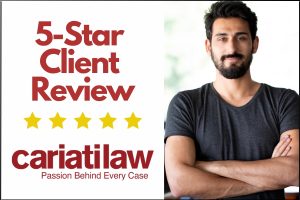 We're grateful and humbled by another Cariati Law 5-star Review.
"My mom was in a car accident. We were advised to call Cariati Law by a relative. We are so glad we did. Without their help and support, we would not have been able to navigate the insurance system and wouldn't have the settlement solved in a little over two years. Egidio Stagnitta, Hermia Leung, and their team did an excellent job. They looked after my mom's medical claim and rehabilitation, and whenever we had an issue with insurance or had questions to ask, they reassured us that we were not alone. More importantly, they got my mom a more than satisfying settlement. The team at Cariati Law always had my mother's best interest at hand. I can assure you they will make the best decisions for you. I highly recommend Cariati Law to anyone who needs a personal injury law firm in Ontario."
David L., Hamilton, Ontario, Canada
When seriously injured in an accident, call Cariati Law at 905-629-8040 for a free, confidential consultation. We'll listen to your story and let you know your options.