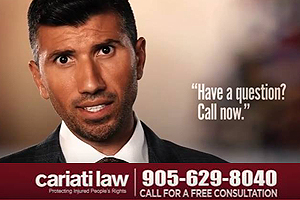 Cariati Law has released a new TV commercial about motor vehicle accidents. The commercial highlights the importance of hiring an experienced injury lawyer to protect your rights when injured in a car crash.
According to the most recent data, there are over 110,500 motor vehicle accidents that result in injuries every year across Canada. Car accidents can result in serious, permanent injuries that may require a lifetime of future care.
If you or a loved one are injured in an accident, you need the help of the dedicated, experienced Ontario Car Accident Lawyers at Cariati Law.
Call Cariati Law today at 905-629-8040 to speak with one of our experienced Toronto, Hamilton and Mississauga, Ontario Car Accident Lawyers absolutely FREE. At Cariati Law, we fight hard to secure the compensation you deserve for your pain & suffering, lost income, and medical expenses.
Be sure to subscribe to the Cariati Law YouTube channel to keep up with all of our latest videos and commercials, and follow the Cariati Law Facebook page for all the latest blog posts, safety tips and more!
Cariati Law – Passion Behind Every Case