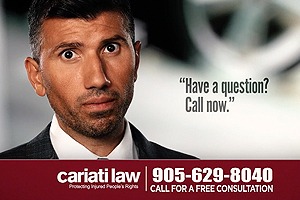 Cariati Law has released a new commercial on Long-Term Disability Insurance benefits. This commercial highlights how Cariati Law can help protect your rights if you are unable to work and need your Long-Term Disability Insurance benefits.
In the event that you or a loved one become disabled due to a work injury, medical condition or illness, Long-Term Disability insurance benefits are there to help cover your expenses.
On average, 1 out of every 3 Canadians will be disabled for at least 90 days before reaching age 65. Sadly, millions of Canadians will have to deal with a sudden injury, accident or illness that prevents them from returning to work and supporting their family.
Long Term Disability Insurance can help protect you and your family by providing benefits that supplement your loss of income. Many injured or sick Canadians depend on these insurance benefits to help pay for medical bills, expensive home care, and regular living expenses.
To view all of our commercials and learn how Cariati Law may be able to help you, be sure to subscribe to the Cariati Law YouTube channel for all of our latest videos. Be sure keep up with our blog and our Facebook page to stay updated up with the latest TV commercials, safety tips, updates and more!
Cariati Law – Passion Behind Every Case