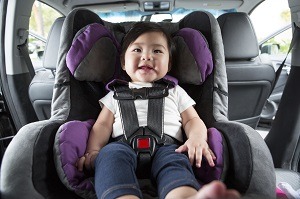 Did you know that every year in Canada about 10,000 children, from infants to 12-year olds, are injured or die in a motor vehicle accidents? According to Transport Canada, child car seats make road travel safer for your child. They keep your child in place, so that in a sudden stop or crash, your child has increased protection. This will reduce the chances of serious injury or even death.
There are four car time stages when child safety seats should be used. They are as follows:
1) Rear-facing seats – These are placed at a 45-degree angle so that your baby's head is supported. Keep your baby in a rear-facing seat until he or she weighs 22 pounds (10 kg).
2) Forward-facing seats – These seats have harness straps that are narrower than a vehicle seat belt and fits a child's small shoulders.  Keep your child in the forward-facing seat until he or she weighs 40 pounds (18 kg).
3) Booster Seats – These seats are designed to allow children to use seat belts. The booster seat positions a child properly so that the seat belt is correctly located on the lap and shoulder.  Keep your child in a booster seat until he or she weighs 80 pounds (36 kg).
4) Seat Belts – Seat belts are used when children are tall enough to use a seat belt that is properly positioned over their lap and shoulder without needing a booster seat.  Children at this stage should always wear a seatbelt for safety.
The car accident lawyers at Cariati Law are passionate about educating the public on child safety laws. Cariati Law, Mississauga and Toronto car accident law firm represents seriously injured children and individuals who are victims of the negligent acts of others.
If you or a loved one has been injured in a car accident, call Cariati Law Personal Injury lawyers so that we can represent you in your time of need. We'll answer all of your questions and never charge anything up front. We only get paid, when you do.
If we take your case, we will investigate your situation at no cost to you. We will investigate to figure out what happened, and if someone was at fault, we will take the necessary measures to seek compensation for you and your family
Call Cariati Law, Toronto car accident lawyers for a FREE, no obligation, confidential consultation at 905-629-8040.
Cariati Law, Toronto and Mississauga Injury & Disability lawyers announce our No Fee Promise- meaning you owe us nothing unless we win your case. When injured, make one call to Cariati Law.
Cariati Law, passion behind every case.