Medical Malpractice Lawyers
We depend greatly on the healthcare industry to keep us safe and to provide correct and precise medical care and advice. But sometimes, hospitals, healthcare providers , medical institutions, and pharmacists do make negligent mistakes, and innocent children and adults can suffer the consequences.
According to the National Academy of Medicine, each year more people die from medical errors than from motor vehicle accidents (43,458), breast cancer (42,297), or AIDS (16,516). Annually, researchers feel that as many as 180,000 people fall victim to the mistakes of doctors, nurses, pharmacists, hospital staff and other healthcare professionals resulting in devastating injuries, permanent disabilities and death.
Researchers feel that as many as 180,000 people fall victim to medical mistakes every year.
---
What is Medical Malpractice/Negligence?
Medical malpractice, also called medical negligence, occurs when a health care provider or health care institution acts in a negligent manner that results in a patient's injury.on the part of a physician or other health care provider . Examples of medical malpractice in a variety of ways, which may include:
• Failure to diagnosis a disease or condition
• A surgical or anesthesia accident
• Failure to obtain informed consent for a medical procedure
• Failure to properly treat a disease after a correct diagnosis
• Improper use of prescription drugs, medical devices or implants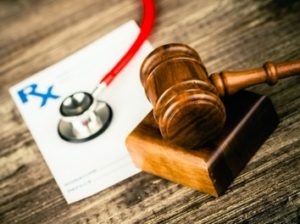 ---
Other Examples of Medical Malpractice
Medical malpractice can also include any professional misconduct carried out by a physician, such as:
• Obtaining a professional license fraudulently
• Practicing a medical profession fraudulently or beyond its authorized scope
• Practicing while impaired by alcohol, drugs, physical disability, or mental disability
• Being a habitual abuser of alcohol, or being dependent on a habitual user of drugs while practicing medicine
---
Filing a Medical Malpractice Lawsuit
The medical malpractice lawyers at Cariati Law will apply their distinguished skills to research and determine how your medical injury occurred and conclude whom, if anyone, was at fault. Our expert team of personal injury lawyers will explain the technical aspects of each case in an easily digestible manner in order for our clients to understand.
---
Cariati Law has helped numerous individuals and families get the compensation they deserve and to hold the responsible party accountable for their negligent actions.  Because each case is unique, and some highly complex, the experienced medical malpractice lawyers at Cariati Law will make the time to listen to you, answer all your questions and outline the specific steps that must be undertaken prior to filing your medical malpractice claim.
Get in Touch with Expert Medicial Malpractice Lawyers in Toronto and throughout the GTA
Please contact us today to schedule your free, no obligation medical malpractice consultation. You have a legal right to compensation. Let Cariati Law help you get what you deserve.
Contact a Cariati Law medical malpractice law firm at one of our locations in Ontario, Canada. Each and every one of our personal injury lawyers is innovative, highly experienced and result-oriented when serving the diverse legal needs of our clients. Our lawyers are committed to protecting your rights.
Cariati Law, passion behind every case.
Click here for a Free Case Evaluation or call TOLL FREE: 1.888.629.8040