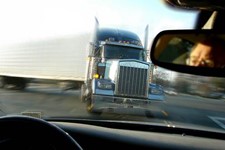 Last week, a serious traffic accident caused by a tractor trailer driver left three people hospitalized.
Tractor trailer accidents injure many Ontario drivers every year. These vehicles can weigh up to 36,000 kilograms and are difficult to control, especially when traveling at high speeds on the highway.
On the morning of Friday, 4/15, a tractor trailer carrying scrap metal was driving eastbound on Highway 401 when it collided with a passenger vehicle and overturned. The truck's load spilled out on to the highway and into the path of oncoming vehicles.
Several vehicles hit the debris in the road, and three people were sent to local hospitals. The truck driver, who was 22 years of age, was charged with careless driving.
Accidents involving tractor trailers and other large transport trucks are a serious issue on Ontario's roads and highways. Recent data on road traffic accidents in Ontario from the Ministry of Transportation shows that:
Accidents involving large trucks injured more than 2,200 drivers in 2014.
105 people were killed in crashes involving large trucks in 2014.
Large truck collisions accounted for nearly 22% of all Ontario driver fatalities in 2014.
The five most common causes of truck accidents are as follows….
1) Driver Error:  Driver error is 10x more likely to cause a crash than any other factor. Driver fatigue, distractions and substance abuse are the most common causes of driver error.
2) Weather Conditions:  Weighing upwards of 36,000 kilograms, a loaded semi can outweigh the average passenger vehicle by more than 25x. This means, due to their heavy load, trucks need to increase their braking distance in bad weather.
3) Truck Equipment Failure:  Defective tires and faulty reverse lights are examples of truck equipment failures. Pre-trip inspections and performing routine inspections and maintenance throughout the year are required.  Ignoring these guidelines can lead to accidents.
4) Improper Loading:  A truck can malfunction when moving if the load is not safely configured or distributed on the trailer. Improper loading can also lead to not being safely secured, resulting in the load falling off onto roadways.
5) Truck Driver or Company Selection:  Shippers need to be diligent in background checks on drivers and companies to ensure the best delivery results.
Accidents involving tractor-trailers can be devastating, and often result in serious injuries and even death. If you or a loved one suffered serious injuries in a tractor-trailer accident in Toronto Canada, call Cariati Law right away at 905-629-8040 or fill out a free online consultation form.
At Cariati Law, our Toronto, Mississauga and Hamilton, Ontario Truck Accident lawyers are committed to securing the maximum compensation for people injured in all types of vehicle accidents. Our experienced legal team will investigate every detail of your accident and fight to protect your rights. Cariati Law has the experience to manage these very complicated cases.
At Cariati Law, you will never pay a lawyer's fee up front. We take all cases on a no-win, no-fee basis and we don't get paid until you do.
Cariati Law – Passion Behind Every Case