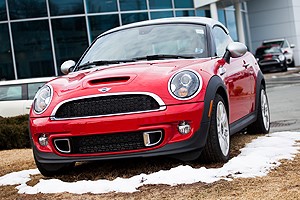 On Tuesday, July 14th, Transport Canada issued a recall of 2 BMW vehicles, the Mini Cooper and Mini Cooper S. The cars affected by the recall were all manufactured in 2014, and authorities are urging Canadians that own or drive these models to get them inspected right away to avoid a potentially dangerous situation.
The recalled vehicles were pulled from the market due to problems with their side-impact protection mechanisms. These safety devices are crucially important for protecting both drivers and passengers in the event of a collision, and the product defects found in these recalled cars could put thousands of motorists at risk. Rear seat occupants in these recalled vehicles are believed to be at the highest risk of injury, which means minors and young children in car seats could be particularly vulnerable.
In fact, side impact collisions are believed to be the most dangerous type of vehicle accident for young children. Here are some disturbing statistics about the risks children face when involved in side impact collisions:
Side impact collisions account for 1 out of every 3 child vehicle accident fatalities. The vast majority of these fatalities are brought on due to head trauma.
1 in 4 car crashes involving children are side impact collisions.
The Insurance Institute for Highway Safety estimates that side airbags reduce motorist deaths by up to 37%.
We urge all Toronto and Ontario drivers to frequently check Transport Canada's Motor Vehicle Safety Recalls Database. Motorists can use this resource to check the make, model, and year of their vehicle to ensure there are not currently any outstanding safety concerns that may make your car unsafe to drive.
At a time when the auto industry is undergoing major upheaval due to dangerous product defects, it is more important than ever to ensure that vehicle manufacturers are providing safe, reliable products for their customers. Major auto manufacturers including Honda, Toyota and Nissan are currently experiencing what some are calling the largest auto recall in history due to extremely dangerous, malfunctioning airbags. Over 57.5 million vehicles have been recalled worldwide as a result of this defect.
When auto manufacturers create unsafe, defective or malfunctioning products that put consumers at risk, they must be held accountable for their actions. At Cariati Law, our Toronto Product Liability lawyers have years of experience standing up to large corporations on behalf of clients that were injured through no fault of their own.
If you or a loved one has been seriously injured by a defective product, trust the dedicated and experienced Toronto Personal Injury lawyers of Cariati Law to handle your case with the utmost compassion and dedication.  Call us today at 905-629-8040 to speak with one of our Personal Injury and Product Liability lawyers for FREE. At Cariati Law, we take the time to understand your case on a personal level in order to determine the base course of action to achieve the justice you deserve.
When you trust Cariati Law to represent you in your serious injury case, you will never pay a lawyer's fee unless we achieve a recovery for you.
Cariati Law – Passion Behind Every Case