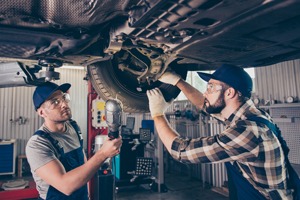 Following a similar investigation last year in the United States, Transport Canada has opened an investigation into reports of braking issues involving nearly 250,000 full-sized pickup trucks and Sport-Utility Vehicles (SUVs) produced and sold by General Motors. An article on the investigation is available here.
About the Investigation
The automotive-industry safety regulator Transport Canada—following a similar probe in the United States—has launched an inquiry into braking safety and effectiveness. The investigation covers 249,700 full-sized pickups and SUVs produced between 2015 and 2017. Models affected under the investigation include:
Cadillac Escalade
Chevrolet Suburban
Chevrolet Tahoe
GMC Yukon
Other models under scrutiny include the Chevrolet Silverado LD and GMC Sierra LD pickups produced between 2014 and 2017.
An Earlier Probe
In November 2017, the United States National Highway Traffic Safety Administration (NHTSA) opened an investigation into 2.73 million SUVs and pickup trucks produced between 2014 and 2016. The investigation followed 487 reports of heightened brake pedal effort and extended stopping distance.
These issues were attributed to the deterioration of the engine-driven brake-assist vacuum pump. The NHTSA indicated it had received nine reports of low-speed collisions—and two injuries—involving vehicles with this problem. The agency said failure of the pump can reduce power-assisted braking and increase stopping distance.
We Can Help
If you or a loved one has been injured in a car accident through no fault of your own, call Cariati Law at 905-629-8040 for help. When you call, you will speak with an experienced Toronto Car Accident Lawyer absolutely FREE. We will investigate your case, handle all the paperwork, and manage your entire claim—so you can focus on your recovery.
At Cariati Law our top Car Accident Lawyers will investigate every detail of your case for free. All cases are handled on a contingency fee basis, which means you pay us nothing up front. In fact, we only get paid after you do—and if there is no recovery, there is no lawyers fee.
Contact one of our Toronto Car Accident Lawyers at 905-629-8040 for help today.
Cariati Law – Passion Behind Every Case