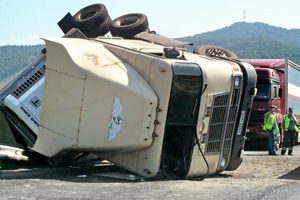 On April 7th, 2018; a bus carrying members of the Humboldt Broncos junior hockey team collided with a tractor-trailer in Saskatchewan. The accident left 15 people dead and at least 14 more injured. Passengers on the bus were headed to the town of Nipawin for a playoff game when the crash happened, according to the Royal Canadian Mounted Police.
The tragedy was felt across Canada—where hockey is the dominant sport and making long bus rides to tournaments is a rite of passage for young players. The driver—who was the only occupant of the tractor-trailer—was not injured in the collision, which is not currently under criminal investigation.
To read the full story, click here.
One in Five Fatal Ontario Road Crashes Involves a Transport Truck.
This tragic story is just one example of devastating accidents that can occur on our Canadian roads. Among the 1,342 fatal motor vehicle collisions on OPP-patrolled roads between 2012 and 2016, 266 involved transport trucks. There are many reasons why transport trucks create accidents on our road, including:
Poorly maintained equipment
Driver fatigue
Improper weight loading
Failure to install blind spot mirrors
Overworked scheduling
Cases Involving Transport Trucks Expose the Need to Make Ontario Roads Safer.
Cases involving trucks are more intricate than a typical automobile accident. These highly complex cases involve state, federal, and often international regulations—requiring lawyers with extensive experience in this area. In cases like these; an experienced Toronto, Mississauga and Hamilton, Ontario truck accident lawyer from Cariati Law injury and disability lawyers can help you achieve the justice you deserve.
At Cariati Law, our top tractor trailer accident lawyers will investigate every detail of your accident for free. All cases are handled on a contingency fee basis, which means you pay us nothing up front. In fact, we only get paid after you do, and if there is no recovery, there is no lawyer's fee.
Contact one of our Toronto serious injury lawyers at 289-807-5165 for help today.
Cariati Law – Passion Behind Every Case