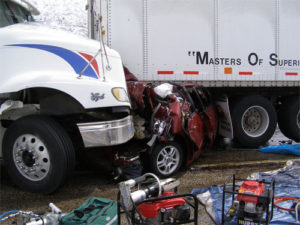 Transportation logistics is a trusted and essential industry, which brings goods cross-country to millions of consumers and businesses every day. With thousands of trucks on the roads 24/7, there are many strict rules, regulations and guidelines that transportation companies and drivers must adhere to. Unfortunately, many times these regulations are not adequately enforced, causing serious injury and even death to thousands of Canadians yearly.
Given the size, power and destructive capabilities of most commercial vehicles, Truck driver fatigue is a growing problem that puts all Canadian motorists at risk.
Risky Driving
Each year tractor trailer crashes injure and kill thousands or people on Canada's roadways. Tractor trailers are involved in multiple-vehicle fatal crashes at a much higher rate than passenger vehicles.
Regulations Can Only Go So Far
Several Federal regulations are already in place that are designed to help make sure truck drivers and other commercial vehicle operators are not fatigued while driving. However these regulations have not stopped the occurrence of fleet driver fatigue, with several accidents occurring every month when drivers fall asleep behind the wheel.
Even without drivers falling asleep at the wheel, fatigue can cause drivers to react poorly to road conditions and hazards due to impaired reaction time, vision, and judgment. Driver fatigue has also been associated with increased aggressive behaviors behind the wheel, putting everyone on the road at risk.
With Canada's long and often severe winters, commercial truck drivers must be as alert as possible. Icy and snowy road conditions can dramatically compound risk factors brought about by fatigued drivers. During inclement weather a quick reaction time is often the only thing that can make the difference between life and death for both truckers and the passenger vehicles that must share the roadways.
Time Limits on Commercial Driving
Canadian Federal regulations prohibit truckers from driving for more than 13 hours straight; however it remains impossible to enforce this law, especially when truckers are under tight deadlines to deliver goods all across the country in short time frames. These laws also cannot force truck drivers to get adequate rest while they are off duty. Many times truckers will turn to caffeine-filled supplements to stay awake while driving. This is a unsafe practice that can potentially harm many motorists.
This is a guest blog post from our lawyer friends at Graves McLain PLLC In Tulsa, OK.
If You Have Been Injured
If you are injured in a tractor trailer accident, you should always seek the advice of a skilled tractor trailer accident lawyer. If it is found that a truck driver's negligence caused an accident that resulted in serious injury or even death, you could be entitled to compensation for medical bills, lost wages, pain and suffering, and a lifetime of care.
An experienced tractor-trailer accident lawyer will be able to uncover the facts, investigate the scene, and fight for the injured victims to get the maximum compensation available.
The experienced lawyers at Cariati Law are here to help. If you or a loved one has been a injured in a car crash or any type of accident call Cariati Law for a free, no obligation, confidential consultation at 289 807 5165. There is never a fee for ours services unless we win for you. Our lawyers are committed to protecting your rights. When injured, make one call to Cariati Law.
Cariati Law, Passion Behind Every Case.