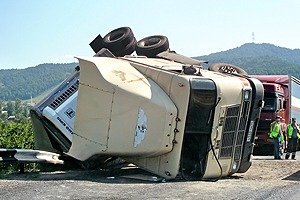 On Friday, October 2nd, a multi-vehicle accident on Highway 401 in Ajax, Ontario left several motorists fatally injured. Ontario Police announced that the accident was caused by a tractor trailer driver who rear-ended a passenger vehicle. Police and the company that owns the tractor trailer in question have announced that they are launching an investigation into why the truck driver failed to brake in time.
Police said that the accident took place on Highway 401 near Salem Road at approximately 10:30pm. Traffic had slowed down due to construction in the area when the tractor trailer driver slammed into the pack of a much smaller vehicle. Tragically, this collision triggered what is being described as "an extreme chain reaction" that caused devastating injuries to multiple motorists.
Approximately 18 vehicles in total were involved in the accident. Four people were killed during the collision, and several others were taken to local hospitals in serious or critical condition.
This horrible accident demonstrates just how dangerous tractor trailers can be when they are operated by negligent or irresponsible drivers. Unfortunately, drivers of passenger vehicles are often put at significant risk when they share the road with tractor trailers and other large transport trucks.
Here are some concerning statistics about tractor trailer accidents in Ontario:
56% of fatal road traffic accidents involving tractor trailers and heavy trucks occur in rural areas
In deadly traffic accidents involving tractor trailers, motorists in passenger vehicles are far more likely to be fatally injured than truck drivers.
Only 15% of fatalities in accidents involving a tractor trailer were occupants of heavy trucks.
One 2011 study by Transport Canada found that driver fatigue played a factor in approximately 30% of fatal collisions involving tractor trailers and heavy trucks.
Drivers of all types of motor vehicles have a right to safely and responsibly share Ontario's roads and highways. If you or a loved one was injured due to the negligence of a heavy truck or tractor trailer driver, you may be entitled to compensation.
Call the experienced Ontario Car and Truck Accident lawyers at Cariati Law right away at 905-629-8040. When you call, you will receive a FREE and confidential consultation about your case with one of our dedicated and hardworking Ontario Personal Injury lawyers.
At Cariati Law, we will speak to you for free, investigate your accident, and make sure that your rights are protected. Cariati Law takes all cases on a contingency fee basis. That means you will never pay a lawyer's fee unless we achieve a recovery for you.
At Cariati Law, we don't get paid until you do.
Cariati Law – Passion Behind Every Case