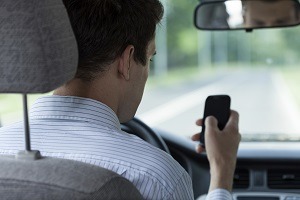 Drivers in the Greater Toronto Area that make a habit of using their phones or mobile devices behind the wheel should be on high alert.  Today, Toronto police begin a week-long campaign aimed at cracking down on Distracted Driving. Distracted Driving, which includes talking, texting, and emailing behind the wheel, is a reckless and dangerous practice that leads to thousands of accidents in Ontario every year.
The weeklong campaign, which will begin Tuesday morning and last through Sunday, February 22nd, has been titled "That Text or Call Could End It All." This strongly-worded title illustrates that Toronto and Ontario police are taking this initiative very seriously. The goal of the campaign is not only to punish drivers that engage in this behavior, but also to spread awareness about the dangers of Distracted Driving. Police and Ontario transit authorities want to make it abundantly clear to GTA drivers that even one message sent while driving can have disastrous consequences.
Distracted Driving is quickly becoming a serious epidemic on Canadian and North American roadways. With the rise in popularity of mobile devices in the last decade, new laws have been put on the books to punish drivers that can't wait until they arrive at their destination before sending a text or making a call. In Ontario, if a driver is found to be endangering other motorists through the use of a handheld electronic device, they can be charged with Carless Driving, a serious offense that carries fines of up to $2,000. Here are some other sobering statistics about the scope of the Distracted Driving epidemic.
– Toronto officers have filed more than 82,000 charges for offenses related to Distracted Driving since 2011.
– Throughout North America, driver distraction factors in to roughly 4 million vehicle accidents every year
– Ontario Provincial Police released a statement in 2013 announcing that more Ontario motorists were fatally injured in accidents involving distracted drivers than in any other type of collision.
– Distracted Drivers are up to 4 times more likely to be involved in a collision than drivers that pay full attention to the road.
The "Text or Call That Could End It All" campaign will use both marked and undercover police vehicles to target drivers that are not giving the road their undivided attention. In addition, the crackdown will not be limited only to use of cellphones or mobile devices. Using MP3 players, applying cosmetics, eating or drinking behind the wheel, or any other behavior that makes it difficult to focus on the road and your surroundings is liable to receive a stiff penalty this week. While enhanced enforcement will end on Sunday, police and Ontario lawmakers are hoping that spreading awareness and setting a precedent will make a lasting impact on drivers in and around Toronto.
We all have busy lives that require us to be in touch with dozens of people in a given day. However, the point of this campaign and many others like it is to illustrate that these distractions can wait until we are off the road. Here are some tips to help keep you from being distracted while driving:
– If you receive a call in the car, let it go to voicemail. You can always return the call when you arrive at your destination.
– If you need to make or receive an emergency call, pull over to the side of the road or into a parking lot until the call, email or text message is completed and sent.
– If you need to use GPS for a trip, plan out your route and enter all relevant information before you leave.
– Avoid other distractions such as maps, grooming activities, and intense conversations with passengers until you arrive safely at your destination.
– "Hands-free" does not make taking calls behind the wheel any less dangerous. Studies have shown that even hands-free telephone calls make drivers up to 37% less focused on their surroundings.
For more tips and helpful information that can prevent you from being a victim of Distracted Driving, visit the Ontario Ministry of Transportation's website here. If you or a loved one has been injured by a distracted, reckless or intoxicated driver, you need an experienced legal team on your side that will fight to secure the maximum compensation to which you are entitled.
The Toronto Car Accident lawyers at Cariati Law make it our mission to advocate for the rights of victims injured through no fault of their own. Call us today at 905-629-8040 for a FREE, confidential, and no-obligation consultation. You will speak with a compassionate and dedicated car accident lawyer that will fight to protect your rights.
Your case is serious to us. At Cariati Law, Toronto injury law firm, we're here for you.
Cariati Law – Passion Behind Every Case.