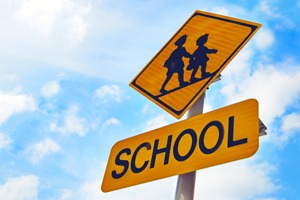 With Toronto children heading back to school, the city is launching a plan to increase safety in many areas. A detailed article on the initiative is available here.
Recent pedestrian fatalities in Toronto led the city to place an enhanced emphasis on school safety. The deaths included an 11-year-old boy in Scarborough and a five-year-old girl in North York.
Aiming to Improving Safety
The city hopes the pilot program—which includes Holy Child Catholic School, Humberwood Downs Junior Middle Academy, Morrish Public School, Oakridge Junior Public School, and Samuel Hearne Middle School—can make the streets safer and encourage children to bike or walk to school.
Infrastructure, Enforcement, Education
Flashing lights and road markings are all part of the city's "Active and Safe Routes to School" plan to protect school children. The project is just one part of Toronto's Vision Zero Road Safety Plan. The proposed infrastructure improvements are scheduled to include:
Painted Zebra Stripe Crossings
LED Speed Signs in School Zones
Automated Speed Cameras
Photo Radar Enforcement
In June, Toronto's transportation committee approved areas around the Toronto Catholic District School Board and Toronto District School Board as designated Community Safety Zones—where speed limit enforcement will tighten and penalties for violations will increase.
In addition to infrastructure changes and improved traffic enforcement, the Toronto District School Board has approved returning a road safety curriculum to city classrooms to support the other measures introduced by the city.
We're Here to Help
If you or a loved one has been seriously injured in any type of pedestrian accident, call Cariati Law at 905-629-8040 for help. When you call, you will speak with an experienced Toronto Pedestrian Accident Lawyer absolutely FREE. We will investigate your accident, handle all the paperwork, and manage your entire claim—so you can focus on your recovery.
At Cariati Law our personal injury lawyers will investigate every detail of your accident for free. All cases are handled on a contingency fee basis, which means you pay us nothing up front. In fact, we only get paid after you do, and if there is no recovery, there is no lawyers fee.
Contact one of our Toronto serious injury lawyers at 905-629-8040 for help today.
Cariati Law – Passion Behind Every Case