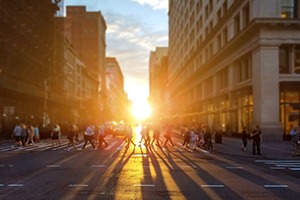 Last month the four councils representing Scarborough, North York, Etobicoke, and the old Toronto & East York, met to consider a total of 49 items relating to road safety such as speed limit reductions, traffic lights, and speed bumps. Road safety accounted for 24 percent of all of their business. But while things appear to be improving, the implementation process for Toronto's streets remains weighed down by various roadblocks despite the continued occurrence of injuries and deaths.
Speed Limit Reductions
According to certain reports from transportation staff, speed limit reductions won't exactly be changing any time soon. In fact, they suggest that it may be more than give years from now before implementation. One report, which looked at a request to lower the speed limit on Erie Road in Etobicoke from 50 km/h to 30 km/h, stated that the city's transportation services department actually recommended against implementing the immediate reduction, instead favoring a longer-term plan for speed limit reductions on all local roads.
As per the report, the "labour intensive process" of speed-limit reduction would include "actual installation of the signs and pavement markings on local roads [and] will be a data-driven process at a ward-by-ward basis taking place between 2021 and 2026. Luckily, in this case, Coun. Frances Nunziata was displeased by this recommendation and moved to overrule the report and lower the speed limit anyway.
New Traffic Lights
 Speed limit reductions are not the only road safety recommendation to be overruled. In a report on the downtown intersection of Bay Street and St. Mary Street, which has no traffic lights, it was recommended that traffic lights should not be installed because there was not enough vehicle traffic to justify doing so. Taking into consideration the fact that there have been 15 collisions over the past year, Coun. Kristyn Wong-Tam successfully moved to install the traffic light anyway.
Speed Bumps
Even the issue of implementing speed bumps has had to be overturned by local councillors. This isn't all too surprising considering the city's overly complex process. The process begins with a survey, petition, pr public meeting, and follows through 13 steps, including a neighborhood poll, higher than government office standards. The poll is considered invalid unless more than 50 percent of the individuals polled returned their ballet. (Designated community-safety zones require only 25 percent.)
One such instance occurred in York in which a report recommended against speed bumps on Strathnairn Avenue despite 77 percent approval rate in the local poll due to the fact that just 36 percent of ballots mailed out were returned. Once again Nunziata overturned the recommendation.
It seems quite counterintuitive that these reports recommend against traffic safety measures, despite the common endorsement of Vision Zero. If these standards and requirements were lowered, the implementation of road safety measures would be greatly encouraged and would no longer require any councillor intervention.
Cariati Law Can Help
If you or a loved one has been injured in a motor vehicle accident due to the negligence or recklessness of another, it can impact many aspects of your life. That's why it is so important to consult with an experienced and knowledgeable Car Accident Attorney.
At Cariati Law, our top personal injury lawyers will handle your case for free – you pay nothing until we do. Contact one of our Toronto Personal Injury Lawyers at 905-629-8040 today!