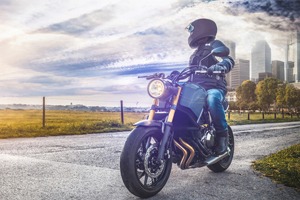 Currently, the City of Toronto is studying a rule change that would allow motorcyclists to move between lanes of traffic while stopped at red lights. The city hopes the change in practice would increase safety for those on motorcycles. A detailed article on the proposed change is available here.
After the Toronto city council recently approved a motion to explore a pilot project, they announced they will explore the practice. Lane filtering—a practice in which motorcycles sit between lanes at signals—is not to be confused with lane splitting, which allows motorcyclists to travel between lanes in moving traffic. At present, the City of Toronto prohibits either practice.
Greater Risk of Injury
Information gathered in Ontario from 2007-2013 reveals cyclists are three times more likely to sustain injuries—and ten times more likely to suffer serious injuries—than drivers. Studies found an injury rate of 2,194 out of 100,000 for cyclists—versus 718 per 100,000 drivers.
Others Follow Suit
The Canadian Motorcycle Association states the practice can keep motorcyclists safe while easing traffic congestion. The group plans to adopt a formal stance on the practice after their fall board meeting. At the same time, the Canadian Automobile Association says the Toronto study has inspired them to research the practice.
We're Here to Help
If you or a loved one has been seriously injured in any type of motor vehicle accident, call Cariati Law at 905-629-8040 for help. When you call, you will speak with an experienced Toronto Motorcycle Accident lawyer absolutely FREE. We will investigate your accident, handle all the paperwork, and manage your entire claim—so you can focus on your recovery.
At Cariati Law our top motorcycle accident lawyers will investigate every detail of your motorcycle accident for free. All cases are handled on a contingency fee basis, which means you pay us nothing up front. In fact, we only get paid after you do, and if there is no recovery, there is no lawyers fee.
Contact one of our Toronto serious injury lawyers at 905-629-8040 for help today.
Cariati Law – Passion Behind Every Case