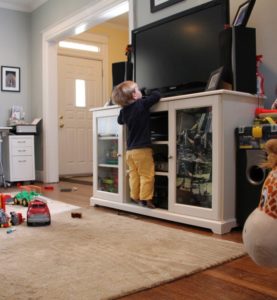 Flat screen TVs can be found in a large percentage of Canadian households, however most of us don't think of them as being potentially dangerous to our children. A recent study published by the Journal Pediatrics shows that parents should start paying more attention to their flat screen safety.
Alarming Statistics
Thousands of children come into the hospital with TV related injuries each year.
The rate of child injuries from falling TV screens has more than doubled in the last ten years. This can most likely be attributed to the rise in flat screen TV popularity. Flat screens unfortunately are easier to topple than older, bulkier TVs.
In a majority of these injuries the TVs were placed improperly on flimsy furniture, or were not anchored to the wall securely. Unfortunately, many parents are unaware of the dangers these heavy items pose until it is too late.
The most common injuries sustained in these situations are head and neck wounds. Concussions are also common. Children under 5 are the most at risk for severe injuries.
More than 50% of all annual TV related injury cases are caused by a falling TV, while about 38% are caused by someone striking the TV and receiving soft tissue damage from a shattering glass screen.
Take Precautions
Most TV related injuries are preventable if parents take the proper precautions when purchasing a new TV.
Always make sure that when you buy your TV, you also purchase a quality TV mounting system if you plan on anchoring the TV to a wall. These systems are typically easy to install yourself, and can be purchased for a budget-friendly price. Make sure that when you are installing the equipment that you read all of the directions and follow them carefully. If you mistakenly use a flimsy wall or do not install the system properly, the TV can still fall causing serious injury to anyone in the vicinity.
When placing a TV in your home, make sure that the furniture supporting it is strong and not easy to topple. Every parent knows that children love to climb, so before placing your TV take the time to think about its location and how easy it would be to topple. There are also kits you can purchase that screw or strap onto your furniture that prevent children from pulling the furniture and TV over.
With these simple precautions, you can help make sure your child is safe from unnecessary injury.

The experienced lawyers at Cariati Law are here to help. If you or a loved one have been injured in any type of accident, call Cariati Law for a free, no obligation, confidential consultation at 289 807 5165. There is never a fee for ours services unless we win for you. Our lawyers are committed to protecting your rights. When injured, make one call to Cariati Law.
Cariati Law, Passion Behind Every Case.