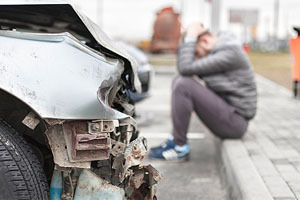 Being involved in a motor vehicle accident can be extremely jarring. Although such accidents occur frequently, often times those involved do not know how to handle the situation when they find themselves involved.
Feeling pressured to resolve the situation as soon as possible; many people feel the need to take immediate action. Unfortunately, many times those same actions can backfire. Here are the top mistakes to avoid at the scene of your motor vehicle accident.
1. Not calling the police
No matter how big – or small – your accident may be you should always call the police. There are many things that calling the police can do when it comes to backing your claims. The arriving police officers will work to collect evidence, including witness statements, to put into an Accident Report, which can help to back your claims.
2. Saying you're 'sorry'
Most of us apologize for things that aren't even our fault. But despite the good intentions, apologizing to someone else after an accident can often be used against you in an effort to prove that you were the one responsible for the accident.
3. Exiting the accident scene
When an accident occurs, for many drivers getting away from the scene of the accident can't come soon enough. Whether you believe that the damage is insufficient or have been told by the other party that it's okay to leave, you should never exit the accident scene before law enforcement has arrived. Without further information and evidence, the other party can easily leverage a false allegation of a hit-and-run against you.
4. Failing to collect relevant evidence
Evidence disappears as time moves on and when it is not collected and preserved, it is commonly lost. For this reason it is imperative that you collect any and all relevant evidence and information as soon as possible after a car accident. Should your condition require immediate medical attention before you are able to secure a collection of evidence, it is extremely important to seek out someone else whom you know who can capture this evidence on your behalf.
5. Abstaining from medical treatment
Some of the worst injuries after motor vehicle accidents do not show up for a few days or even a few weeks. You may think that you are perfectly fine – and may feel that you are – only to be met with a severe injury later on. Unfortunately, if you fail to seek medical treatment it can be very difficult to defend your injury claims against your insurance company later on as there is a lack of evidence that the injuries were incurred due to your accident.
6. Failing to contact a qualified Toronto motor vehicle accident lawyer
Even if you believe that the accident you incurred was very minor and nothing to worry about, it is always best to contact a qualified Toronto motor vehicle lawyer who has the experience necessary to know how to handle your case in a manner that always takes your best interest to heart.
Cariati Law Can Help
If you or a loved one has been injured in a car accident due to the negligence or recklessness of another, it can be emotionally overwhelming and can impact many aspects of your life. You may not even know where to start. That's why it is so important to consult with an experienced and knowledgeable Toronto Auto Accident Lawyer
At Cariati Law, our top personal injury lawyers will handle your case for free – you pay nothing until we do. Contact one of our Toronto Personal Injury Lawyers at 905-629-8040 today!