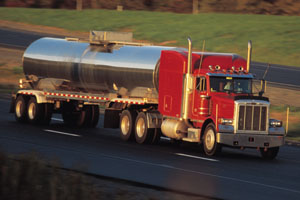 Trucking in Canada is a $65 billion industry that employs over 260,000 drivers. According to Canadian statistics, truck driver is the most frequently cited occupation. What does this mean to drivers of motorcycles and passenger vehicles? It means they must be aware of tractor trailers, as trucks are all over the road on any given day. There are close to 160,000 traffic accidents annually in Canada. According to the Canadian Transportation Safety Board, approximately 2,900 people are killed every year due to traffic accidents and thousands of people suffer injuries.
Now that summer is upon us, there will be many families on the road as they head to various vacation destinations and caution is necessary while driving on the road with tractor trailers. Educate yourself on how to negotiate the road while driving around trucks. The five most common causes of truck accidents are as follows:
1)  Truck Driver Error:  According to government polls, driver error is ten times more likely to be the cause of a crash than any other factor. Driver fatigue, distractions and substance abuse are the most common causes of driver error.
2)  Weather Conditions:  Weighing upwards of 80,000 pounds, a loaded semi can outweigh the average passenger vehicle by more than 25 times. This means, due to their heavy load, trucks need to increase their braking distance in bad weather. Staying apprised of local weather patterns can assist the driver's anticipation of breaking when needed.
3)  Truck Equipment Failure:  Defective tires and faulty reverse lights are examples of truck equipment failures. The FMSCA requires pre-trip inspections, as well as companies to perform routine inspections and maintenance throughout the year. Ignoring these guidelines leads to accidents.
4)  Improper Loading:  A truck can malfunction when moving if the load is not safely configured or distributed on the trailer. Improper loading can also lead to not being safely secured, resulting in the load falling off onto roadways.
5)  Truck Driver or Company Selection:  Shippers need to be diligent in background checks on drivers and companies to ensure the best delivery results. They should check each are compliant with FMSCA regulations.
When driving a passenger vehicle, there are several steps you can take to help ensure safe travels when on the road with tractor trailers.
–          Don't tailgate or drive along side of trucks for too long.
–          Stay visible by being aware tractor trailers have much larger blind spots.
–          Leave more room for trucks to stop on wet roads.
–          Use caution when merging into traffic in front of trucks.
–          Pay attention to turn signals.
If you or a loved one has been seriously injured in a tractor trailer accident or in any type of traffic accident call Cariati Law, the Toronto Personal Injury Law Firm. We're experienced lawyers and are here to help. You can call for a free confidential consultation at 905-629-8040. An experienced lawyer will review your situation at no cost to you. We represent victims and their families in serious injury and wrongful death cases.
Cariati Law, passion behind every case.