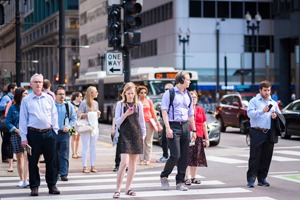 In 2016 there were 42 pedestrian deaths throughout Canada making it one of the deadliest years on record. Cell phones are one of the main causes of distractions for both pedestrians and drivers today.
A new bill could fine pedestrians who choose to walk distracted looking down at their cell phones. The 'Phones Down, Heads Up Act' was proposed by Ontario Liberal MPP, Yvan Baker, to help curb distracted walking.
Yvan Baker explains, ""Experts tell us that if you are distracted while you're crossing the street, looking down at your phone, then you're at risk of hurting yourself and maybe hurting somebody else, as well."
The 'Phones Down, Heads Up Act' has been put into place to help reduce pedestrian accidents throughout Canada. If the bill passes it will be added to the Highway Traffic Act that is currently in place.
To read the full article click here.
Here are some simple safety tips to remember:
• Always walk on the sidewalk and look up, not down when walking & crossing
• If there is not a sidewalk, make sure to walk facing traffic
• Never assume a vehicle is paying attention to you
• Make eye contact with drivers
• Always look both ways twice before crossing the street
• Put your phones away when walking & crossing the street
• It is critical to be aware of your surroundings to avoid an accident from happening
It is important for all pedestrians to put their phones away and pay attention when walking. Whether you walk to work, to school, for exercise or just getting around, it is never safe to walk looking down at your cell phone or listening to music with your head phones. You should be paying full attention to your surroundings at all times, so that you are as safe as possible.
Too many pedestrian accidents happen that cause serious and even fatal injuries. If you or a loved one is seriously injured in a pedestrian accident that was not your fault, call Cariati Law at 905-629-8040 for help. When you call, you can speak with an experienced Toronto Pedestrian Accident lawyer absolutely FREE.
At Cariati Law, we will investigate every detail of your pedestrian accident at no cost to you. All cases are handled on a contingency fee basis, which means you pay us nothing up front.
Cariati Law – Passion Behind Every Case