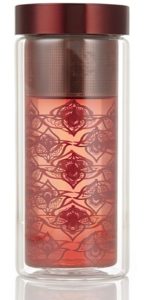 Name of product:
Teavana Glass Tea Tumblers
Units Sold
About 24,850 in Canada
Hazard:
The glass tea tumblers can break or shatter unexpectedly, posing severe laceration and burn hazards to anyone near the item.
Incidents/Injuries
Teavana has already received approximately 302 reports of the glass breaking or shattering while in use, including six reports of lacerations. Injuries reported so far include cut fingers, lacerated legs and burned feet.
Sold Exclusively at
Teavana stores and online at Teavana.com from August 2007 through May 2013
Consumer Contact
Consumers should immediately stop using the glass tea tumblers and return them to a Teavana store location for a free replacement metallic tea tumbler.
If you have purchased one of these defective products, call Teavana toll-free at (877) 261-1509 from 8 a.m. to 5 p.m. ET Monday through Friday or visit the firm's website at www.Teavana.com, and click on "Glass Tumbler Recall" for more information.
Consumers may also mail the tumblers or glasses to Teavana by calling the company and requesting a pre-paid mailer that will be sent at no cost to the consumer. A free replacement metallic tumbler plus complimentary tea will be sent at no charge upon receipt of the returned tumblers or glasses.
Product Description
These glass tea tumblers are double-walled beverage glasses. Most models have removable stainless steel tea infuser baskets, removable lids, and ornamental etchings on the inner wall. All tumblers were packaged in color-coordinated cylindrical packages with the SKU number and UPC code found on a sticker on the bottom of the package. Some models with a lid were sold as part of a tea gift set. The products come in the following model names, SKU/product codes and UPC codes:
MODEL NAME
SKU/PRODUCT CODE
UPC CODE
Akira Travel RED 14 oz
30921 600 014
10005650
Clouds Travel CPR 14 oz.
31253 219 014
10006051
Flourish Iced Tea Glasses 12 oz.(sold as set, 4 no-lid glasses)
30123 000 012
10005006
Harmony Glass Double Wall 11 oz.
TI-DBL TBUL-350
10004174
Izmir Travel GRN 14 oz.
30922 300 014
10005651
Lotus Travel PUR 14 oz.
31254 500 014
10006052
Rhapsody Glass Double Wall 16 oz.
TI-DBL TBUL-500
10004248
Six Dragons Double Wall 11 oz.
10004568 000 011
10004568
Six Dragons Double Wall 16 oz.
10004568 000 016
10004569
Symphony Double Wall 8 oz.
ET-TEATUMB
10003652
Tamira Travel BLU 14 oz.
30920 400 014
10005649
TEA SETS:
Imperial Blooming Collection Tea Sets
with 2 Harmony 11oz.Tumblers
30331 000 000
10004033
Imperial Blooming Collection Tea Sets

with 2 Symphony 8 oz. Tumblers

ET BLOOMGIFT
10003651
If You Have Been Injured
If you or a loved one have been injured as the result of one of these defective products, call Cariati Law right away. Cariati law will make sure you receive the compensation you deserve for your injuries. Product liability cases can be extremely complicated, it is always in your best interest to make sure you have a skilled personal injury lawyer on your side.
The experienced lawyers at Cariati Law are here to help. If you or a loved one have been injured as the result of a defective product, or in any type of accident, call Cariati Law for a free, no obligation, confidential consultation at 289 807 5165. There is never a fee for ours services unless we win for you. Our lawyers are committed to protecting your rights. When injured, make one call to Cariati Law.
 Cariati Law, Passion Behind Every Case.