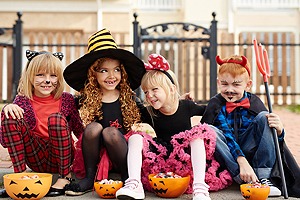 With children gearing up for a night full of trick-or-treating and putting the finishing touches on their costumes, it can be easy to overlook the importance of Halloween safety.
More children will be on the streets, walking around neighborhoods and many will be unsupervised. This is why it is crucial to communicate safety precautions with your children. While trick-or-treating is a fun activity children look forward to, it can also pose serious threats to their safety. Parents should be aware of a few simple safety tips to share with their children to keep them safer on Halloween night.
Here at Cariati Law, we want to ensure the well-being of all our trick-or-treaters in Toronto. Before Halloween night, please communicate these following tips that come directly from the Toronto Police:
Wear a sensible costume. This means wearing costumes that hit above the ankle to avoid tripping and wearing a reliable pair of shoes that fit secure and snug. Advise your child to wear bright, reflective costumes so that other pedestrians and motorists can see them as well.
Join in on the fun! If your child is 12 or younger, assist them in trick-or-treating. If your child is older than 12, be sure they have a fully charged cellphone with them in case of emergency.
Walk with caution. If you are assisting your child in trick-or-treating, be sure to carry a flashlight and to only walk down streets that are well-lit, in addition to avoiding dimly lit houses. If you are not going with your child, make sure they have a flashlight with fresh batteries or a glow stick.
Never Ever Get Into A Vehicle of a Stranger.
Do not take a short cut and walk through dark backyards, especially in neighborhoods you do not know.
Halloween is a fun holiday for everyone to celebrate, but please keep these advisories in mind to ensure the holiday goes safe and smoothly. Taking a few minutes to discuss these fundamental tips with your children could help prevent tragedy and avoidable situations.
Cariati Law – Passion Behind Every Case