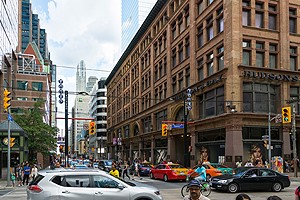 New statistics from the Toronto Police Department indicate that this summer was extremely dangerous for bicyclists and pedestrians in the Greater Toronto Area. According to Police, 542 pedestrians and 541 cyclists were hit by cars in Toronto since June 1st, 2016. That's 1,083 collisions between June and the end of September alone. Breaking those numbers down further, this means that in Toronto, we are averaging 9.5 collisions every day, and one every 2.5 hours.
Even more alarming is the fact that the number of documented collisions in Toronto this summer is significantly higher compared to the same period of time in 2015. Crashes involving a car and either a cyclist or pedestrian can have life-altering consequences. When motorists drive aggressively, drive while distracted or impaired, or simply do not pay attention to the pedestrians or cyclists around them, they are making a selfish decision that puts innocent lives at risk.
Some of the statistics about pedestrian and bicycle collisions in the Greater Toronto Area are shocking:
12 people were fatally injured this summer in Toronto due to either pedestrian or bicycle accidents involving a vehicle.
In Toronto in 2015, 65 motorists, cyclists and bicyclists were fatally injured in road traffic accidents.
The number of traffic fatalities in Toronto last year was the highest figure in 11 years.
Pedestrian fatalities in Toronto have increased by 34% in the last decade.
Lawmakers in the City of Toronto have recognized that these collisions represent a serious public health issue. Recently, the City put forth a new road safety plan, which will devote over $80 million over the next five years towards the goal of eliminating serious collisions on Toronto's busy roads. Safety measures outlined in the plan include enhanced pedestrian safety areas, new bike lanes, and reduced speed limits on busy roads.
While the measures outlined in this plan are certainly helpful, the most effective step we can take as a city to combat this problem is to raise awareness of proper road safety measures among all citizens.
Motorists, please keep the following tips in mind:
Respect designated bike lanes and keep a safe distance from cyclists on the road. Never drive in a designated bike lane under any circumstance, even if you don't see any cyclists in the area.
Always use your turn signals to alert pedestrians and cyclists of your intention.
Don't drive aggressively on busy city streets. Reduce your speed, especially when approaching a crosswalk, school zone, or any other area where foot traffic is heavier than normal.
NEVER drive drunk, and keep your phones and mobile devices safely stowed away at all times when behind the wheel. Even a momentary lapse in concentration can have devastating consequences.
For pedestrians and bicyclists:
Look both ways before crossing the street, and always cross at a designated crosswalk. For bikers, stay in designated bike lanes whenever possible.
Follow posted traffic signals. Cyclists and pedestrians are often tempted to ignore red lights and stop signs if they don't immediately see a car coming, but this risky behavior can sometimes lead to accidents.
Make yourself visible, especially after the sun goes down. A majority of bicycle and pedestrian accidents occur because a motorist simply didn't see an approaching pedestrian or cyclist.
At Cariati Law, we want every Toronto resident, whether driving, biking, or walking, to reach their destination safely. Please respect each other out on the roads. We all have a responsibility to follow the rules and share the road safely. By following these common-sense steps, we can all help prevent future bicycle and pedestrian accidents from occurring.
If you or a loved one are injured in a bicycle or pedestrian accident that was not your fault, call Cariati Law today at 905-629-8040. When you call, you will speak with an experienced Toronto, Mississauga and Hamilton, Ontario Injury Lawyer absolutely FREE.
We will investigate every detail of your accident at no cost to you and fight hard to protect your rights. At Cariati Law, you will never pay a lawyer's fee up front, and you owe us nothing unless we recover for you.
Cariati Law – Passion Behind Every Case