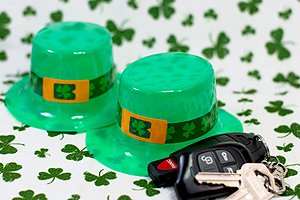 On Thursday, 3/17 thousands of people in Toronto and across Ontario will gather with friends and family to celebrate St. Patrick's Day. St. Patrick's day parades and festivities can be a lot of fun, but it is important to remember to celebrate responsibly. St. Patrick's Day is one of the most dangerous days of the year for traffic accidents involving drunk drivers.
Drunk drivers seriously injure thousands of Canadian drivers every year in preventable traffic accidents. Just this past weekend, a driver that Police suspect was intoxicated, sent five people to the hospital after losing control of his vehicle. The accident took place on Highway 407 in Brampton at around 6am on Saturday 3/12. Five people were seriously injured in the accident, but thankfully, no one was killed.
If you are planning on consuming alcohol at a St. Patrick's Day celebration this year, please plan ahead. There are many ways to make sure that you get home safely after a night out:
Call a taxi, Uber or car service in advance.
Designate a sober driver.
Plan on using public transportation to get home.
NEVER get behind the wheel of a car if you have had anything to drink. Operating a motor vehicle after consuming alcohol is dangerous and criminal behavior that endangers not only the life of the drunk driver, but also the lives of everyone else on the road.
If you or a loved one suffered serious injuries in a car accident involving a drunk driver, call Cariati Law at 905-629-8040. When you call, you will speak with an experienced Ontario Car Accident lawyer absolutely FREE.
At Cariati Law, we will investigate every detail of your situation with compassion and determination. We take all cases on a contingency fee basis, which means you owe us nothing unless we win your case.
At Cariati Law, we don't get paid until you do.
Cariati Law – Passion Behind Every Case