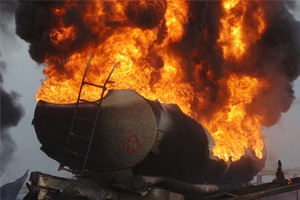 Last week a fiery crash on Highway 400 involved 14 vehicles leaving 3 people fatally injured and multiple people injured. The crash involved four large transport trucks, two of which were fuel tankers. The crash occurred after a transport truck crashed into slowing traffic along the highway, causing a massive explosion.
The fire continued to burn for 2 1/2 hours along the closed Highway as firefighters waited for the fuel to burn itself out. The cause of the accident is still under investigation, but many are blaming the driver of the transport truck.
To read the full article click here.
Many are now raising the question, "Should automatic braking systems be mandatory for all new trucks exceeding 3,500 kilograms?"
The tragic accident that occurred on Highway 400 last week happened after the OPP had released warnings about an increase in collisions involving large transport trucks. This year alone officers have responded to 5,000 collisions involving large transport trucks leading to 67 fatalities.
Spokesman for the Ontario Trucking Association (OTA), Marco Beghetto explained, "the OTA will be part of a working group looking at truck enforcement and highway safety with the Ontario Ministry of Transportation and the OPP in early December in Toronto."
To read the full article click here.
This is a rising problem among roads throughout Canada causing unsafe road conditions for drivers. Requiring all large transport trucks to be equipped with an automatic braking system could reduce accidents.
The size and weight of large transport trucks make driving more difficult. Large transport truck drivers have limited visibility, wider turns, and need more time to stop.
Here are some important safety tips to remember when you are sharing the road with transport trucks.
Avoid the Trucks Blind Spots – It is hard enough for truck drivers to see you so make sure to stay out of the trucks blind spots. It is almost impossible to be seen if you are driving in front, close to the bumper or in the rear of a truck. So keep your distance.
Never Cut Off a Truck – Transport trucks carry a lot of weight so never cut them off due to the amount of time it takes them to stop. It is more difficult for them to maneuver their large heavy vehicle out of harms way.
Give Them More Space – When trying to pass a large commercial vehicle, always give a lot of space behind you, before crossing back in front of a truck. And always try to signal the truck driver when you are making lane changes near them.
If you or a loved one is injured in an accident with a commercial vehicle call the Toronto Truck Accident Lawyers at Cariati Law for help. Our truck accident lawyers have experience with these types of cases and will work hard to protect your rights.
You can reach Cariati Law at 905-629-8040 for a FREE, confidential consultation. When you call, you will speak with an experienced Toronto Commercial Vehicle Accident Lawyer for free.
At Cariati Law, you will never pay a lawyer's fee up front and you owe us nothing until we recover for you. That is the Cariati Law No Fee Promise.
 Cariati Law – Passion Behind Every Case